'9-1-1' Boss & Arielle Kebbel on Lucy, That Kiss, and Buck's Future With Taylor
[Warning: The below contains MAJOR spoilers for 9-1-1 Season 5 Episode 11 "Outside Looking In."]
Oh, how we've missed 9-1-1 and the 118.
The Fox first responder drama returns for the second half of its fifth season with a rescue that pays homage to Speed and introduces the house to its newest member: Lucy Donato (Arielle Kebbel), replacing Eddie Diaz (Ryan Guzman). So what is he doing now? He's working as a liaison at the call center, overstepping, and ready to return to his 118 family. There's only one problem: Captain Bobby Nash (Peter Krause) can tell he's not ready. Also in the midseason premiere, Evan "Buck" Buckley (Oliver Stark) asks his girlfriend Taylor (Megan West) to move in with him … after sharing a kiss with Lucy at a bar. Uh-oh.
Co-showrunner Kristen Reidel and Kebbel tease what's to come as Lucy settles in at the 118 and Eddie tries to make his way back.
About That Kiss…
While out celebrating their big rescue, Buck and Lucy get to know each other, and when she kisses him, he doesn't stop her. In fact, he kisses her back. "Lucy is obviously fun and attractive and exactly the kind of person that Buck would want to date, if he wasn't already in this relationship," Reidel notes. "Him kissing her back just came in the moment."
As for Lucy, "she is coming off of this huge rescue that was a success with the 118, and it was a bit of a 'caught up in the moment' situation," Kebbel says. While she does move on after he reveals he has a girlfriend, expect to see them "bounce very quickly between being best pals and having a little bit of sexual tension."
The Beginning of the End of Buck & Taylor?
According to Reidel, that kiss "exposes a crack in his relationship with Taylor, [one] that is going to widen as we move on this season." It's also the fact that "there was more to it than just a drunken kiss [that] spurs him to ask Taylor to move in because he did feel a little spark. And I think that that scares him a little bit."
We won't see Lucy and Taylor meet right away, but Buck won't be able to keep this secret for long (which he did grapple with a bit in this episode). When Taylor finds out what happened, "that will have definite repercussions [for Taylor] because Buck has asked her to move in," the co-showrunner teases. "Did he ask that because he really wants to, or did he ask that because he didn't know what else to do? That's actually gonna put Taylor in a bit of a pickle: 'I love him, but does he even want to be with me?'"
Lucy's leaving Buck to figure out his own relationship, but Kebbel teases "some shifts and change" leading up to the season finale. Speaking of that episode, while Lucy will be leaning on Buck a bit as she gets a feel for the 118, "there's some nice moments leading up to the finale where he allows her to support him in a hard moment," she adds.
Eddie Needs Help
Eddie's clearly been struggling since switching jobs within the LAFD, and Bobby can see how much when he tries to get his spot back. Eddie's clearly not sleeping, and for his sake and the team's, the captain cannot have him back yet. Go talk to someone, he recommends. "You're going to stand there with 100 something bodies on you and tell me I'm not fit for duty?" Eddie asks. "Go to hell."
We will see Eddie talk to someone, "but it's not going to turn out the way we expect," Reidel warns, noting his trauma goes back to his time in Afghanistan. "Eddie's been denying his trauma for a very long time, so there's a lot to unpack. The back half of the season is a bit of a journey for him of accepting that he needs help and taking it 'cause he's always been the guy that's like, 'I can handle it, I can handle it, I'm fine.' A big part of this is him admitting he's not fine and figuring out how he can heal so that he can someday go back to being a firefighter again."
Buck is the one who will "realize that Eddie is in trouble very soon," in Episode 513. "Eddie's situation comes to a head and Buck realizes the enormity of it," she continues.
Lucy's New Family
Lucy is hoping she's found a new home with the 118. It "means a lot to her, and we play with [the fact] that she is incredibly exited and grateful to be welcomed with open arms," Kebbel says. "We have moments where I'm trying to figure out, 'Am I part of the family or am I still on the outside?'" That being said, you will see her and the others sharing stories about their personal lives and pasts while in the truck. (Speaking of the past, the actress hopes to explore just where the daredevil side of her character comes from.)
Bobby's introduction to Lucy is her disobeying an order on that high-speed rescue, but Reidel notes that she is a bit different from the house's other risk-taker (Buck). "She has a good head on her shoulders, and so I think that Bobby will come to respect her," she says. In fact, "as the season goes on, Buck and Lucy actually complement each other in a very good way on emergencies."
Kebbel shares they'll play rock-paper-scissors for a rescue as well as "try to one up each other," plus Lucy and Bobby will tease Buck together at one point. "That's another time where I think Lucy is really enjoying being welcomed by the 118," she says. And she's joined the house just in time for them to all rally around Bobby during an upcoming call. "We're in the middle of shooting an episode right now that is very emotional around Cap — I get to call him Cap now, which is exciting — and it's emotional for everyone, but especially Lucy, because there's a lot of weight on her shoulders," she previews of Episode 516.
When it comes to the rescues, this is "probably the most athletic [and] demanding job I've ever had," Kebbel admits, calling real firefighters "heroes and sheroes." After the spring premiere, there's a rescue involving a high-rise and a woman out a window. "As I've matured, I've learned the importance of knowing when to say 'tag, you're it' and have your stunt double do the rest. And so it has been so fun doing these massive rescues and doing my part, and then also watching [my stunt double] Jessie [Graff, American Ninja Warrior] take over and do her part."
9-1-1, Mondays, 8/7c, Fox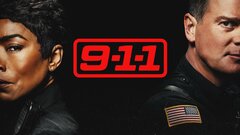 9-1-1
where to stream
Powered by