Roush Review: Apple's Gorgeous 'Pachinko' Tells a Multigenerational Tale of Sacrifice and Cultural Identity
A mother tearfully packs her teenage daughter's few belongings, sending her off to a new life in a strange land in 1931. This wrenching moment is intercut with a scene nearly 60 years later, when the daughter is now a wizened grandmother, packing to return to visit her native country of Korea. Such echoes are common in Pachinko, creator-producer Soo Hugh's shimmeringly gorgeous and emotionally engrossing adaptation of Min Jin Lee's acclaimed 2017 novel about Koreans displaced by the Japanese occupation of the early 20th century.
The central character, played by three remarkable actresses over a roughly 70-year span, is Sunja, the only surviving child of peasant parents who operate a boarding house in a Korean fishing village. A carefree but observant youth (Yu-na Jeon), Sunja becomes a pensive, hardworking adolescent (Minha Kim) who allows herself to dream, falling under the spell of Hansu (Lee Min-ho), a smitten fish merchant with roots in Japan as well as Korea. Dashing in his white suit and worldliness, Hansu will have an outsize influence on Sunja's future as she relocates to Osaka, Japan, to become an essential anchor for an entirely different family.
See Also
The epic series is based on Min Jin Lee's bestselling novel.
Unlike the book's linear structure, Hugh plays with time, jumping between Sunja's early struggles in the 1930s and her reflective life as a surviving elder (the wonderful Yuh-Jung Youn, Oscar winner for Minari) in 1989, where the narrative weight falls on her businessman grandson, Solomon (Jin Ha). Educated in America, Solomon is eager to escape the past, symbolized by his father (Soji Arai), whose only road to success was through pachinko gambling parlors. But like his forebears, Solomon is a man without a country: not entirely Korean or Japanese—in a smart visual gimmick reflecting this duality, English subtitles for Korean are tinted yellow and blue for Japanese.
Reminiscent of multigenerational TV spectacles from another era, Pachinko is a sprawling, moving saga of parental sacrifice, feminine resilience and cultural identity threatened by an oppressive regime. So vivid you can almost smell the kimchi that becomes the key to Sunja's survival, this is also one of the few streaming series I wished was longer than eight episodes, and thankfully there's much more in Lee's brilliant novel to fill (let's hope) future seasons.
Watching this can be a challenge—not just because of the subtitles, but for a structure that jumps past major events in the book's midsection. In a standalone episode towards the end, the series also features a cataclysmic event not included in the novel, providing fascinating and thrilling context for Hansu's conflicted character. This is an unfinished epic, and I look forward to another chapter.
Be sure to stay tuned for the documentary-style coda featuring interviews with several elderly women, real-life Sunjas who suffered and endured and have their own stories to tell.
Pachinko, Series Premiere, Friday, March 25, Apple TV+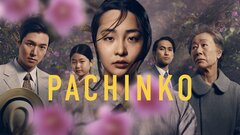 Powered by