'Minx' Stars Jake Johnson, Ophelia Lovibond & More Preview HBO Max's Erotic Comedy
HBO Max's Minx is taking viewers behind the scenes of making an erotic magazine in the 1970s, but there's more to this female-leaning publication than dick pics.
Yes, you read that right. There's lots of nudity in the half-hour comedy, as the creative duo at the center of this series — self-professed feminist and academic Joyce (Ophelia Lovibond) and porn magazine publisher Doug (Jake Johnson) — work to put together a feminist publication hidden within an erotic magazine package. But when it comes to nudity, it's all business.
"You just didn't even bat an eye to it after a while," Lovibond says of the risqué office space that Joyce, Doug, and the rest of the Minx team inhabit. Lovibond's costar Johnson further elaborates, "The people behind you might be dancing naked, but you're like, 'Oh yeah, that's Jennifer and Carol. I've heard about their children and their dreams of going to graduate school.' At a certain point, we were saying our lines and there was just nudity around us."
So, how did this duo come to be acquainted? It's something that happens early on in the series, debuting March 17. "Joyce has been struggling for many years to get it off the ground," Lovibond says of her character's dream feminist magazine, "and no one is biting. So she kind of reluctantly joins forces with [Doug], knowing that it is the quickest way to get it out to people. It might just mean a few compromises."
Those compromises mean steering clear of academic-sounding headlines and adding some artfully done photos of nude men — including a centerfold! When it comes to publishing, Doug is Joyce's guy. "He meets a young woman who has an idea for a magazine," Johnson shares, and as a result, he's inspired to pursue the publication by partnering up with Minx. "They try to take over the world of porno magazines," he adds.
Along for the ride are a ragtag group of creatives, including Doug's secretary Tina (Idara Victor), Joyce's sister Shelly (Lennon Parham), former centerfold star Bambi (Jessica Lowe), and makeup-artist-turned photographer Richie (Oscar Montoya). Together, they make up one unstoppable crew who fights against the constraints of society to bring Joyce's dream to life as well as reach a wide audience with Minx's relatable topics.
"Tina is kind of this badass woman who started [working] with Doug 10 years ago," Victor says of her character's role. "So it's a well-oiled machine at this point, and she's sort of the brains behind the operation," she adds. Viewers should know that despite her job title, Tina plays almost an equal role to Johnson's Doug. "Although she's his secretary, she really kind of runs the ship, and so she's the grounding force amongst the group."
And if Tina's the glue, then Bambi is the heart of this team, because she's eager and passionate about exploring new things. "She is a former centerfold, who has always realized that her body could be commodified, that was her access to society," explains Lowe. "Then Doug assembled this island of misfit toys and has sort of given her a voice." That voice is now being used to present ideas and pitch concepts to Joyce for Minx.
Also part of Doug's island of misfit toys is Richie, a makeup artist for the publisher's other erotic magazines — he's presented with the opportunity to photograph for Minx. "That's a huge opportunity that someone like Richie would never get at the time," Montoya reveals. "He's openly gay and he is a brown person, so opportunities like that weren't really given freely."
See Also
Original series 'Winning Time: The Rise of the Lakers Dynasty,' rom-com 'Moonshot,' this year's Oscar nominees, and more headed to the streamer.
And so viewers will see Richie take on the job with serious focus as he attempts to capture the male models in a way that works for Joyce and Doug. Richie also strikes up a friendship with Joyce's sister Shelly, who joins the team unexpectedly. "We're pretty close sister-wise, but it's also revealed that there's a lot that we haven't shared with each other about our lives and our wants and things that maybe were taboo," Parham says, offering a glimpse into Shelly and Joyce's sisterly bond.
"I subvert expectations and encourage her to go for it when she's doubting herself about partnering with Doug to make her dream magazine," Parham adds. And that message resonates with what viewers will see over the course of the season — the subversion of expectations and breaking of stereotypes.
Along the journey to publication, they'll hit some professional and personal snags, but the magic they make together is undeniable. Don't miss it when Minx lands on HBO Max.
Minx, Series Premiere, Thursday, March 17, HBO Max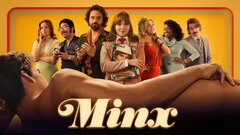 Minx
where to stream
Powered by