'Muppet Babies' Make a Comeback on Disney Junior
People who were tiny tots in the mid-to-late '80s (and maybe a few who were teenagers back then… not naming names) fondly remember Jim Henson's Muppet Babies, the 1984-91 animated series based on the most adorable segment from the movie The Muppets Take Manhattan. Kermit, Fozzie, Miss Piggy, Gonzo, Rowlf, Scooter, Animal and others were all in diapers on the show, all being watched over by Miss Nanny and going on adventures using their imaginations.
Disney, who now owns the Muppets, has decided to revive Muppet Babies in a new CG-animated version; production has begun on the new series, which will debut on Disney Junior in early 2018. Above and below, you'll see the first look at the baby versions of Fozzie, Kermit and Piggy—we dare you to look at them without saying "awwww!" Expect to see that trio plus Gonzo, Animal and, of course, Miss Nanny (at least from the shoulders down). Each episode of the show, which is geared toward ages 4-7, will have two 11-minute segments.
"We are proud, and a little bit giddy, to begin production on our new version of the much-loved Muppet Babies," Nancy Kanter, Disney Junior's programming chief, said in a statement. Parents will delight in seeing their favorite Muppets in the mixed animation style they remember from the original series, and kids will be introduced to this warm and zany world made just right for the Disney Junior audience."
We know someone (again, not naming names) who will have an almost-four-year-old in 2018, and we're pretty sure that person will be watching the new Muppet Babies. Let's hope that person's daughter likes it as much as he's going to (for its educational value, of course!).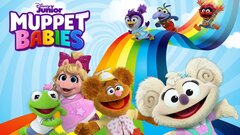 Powered by