'Isle of the Dead': 'TWD' Spinoff Following Maggie & Negan Greenlit at AMC
I hope you got your s***tin' pants on — AMC just greenlit another The Walking Dead spinoff, this one starring Lauren Cohan and Jeffrey Dean Morgan.
The series, titled Isle of the Dead, follows Maggie (Cohan) and Negan (Morgan) in a post-apocalyptic Manhattan, that has been, according to the release, "long ago cut off from the mainland." The two will face a ton of dead, of course, as well as the survivors who have made Manhattan "their own world full of anarchy, danger, beauty, and terror," the release says.
The six-episode first season will premiere in 2023 on AMC and streamer AMC+. TWD writer and co-executive producer Eli Jorné serves as showrunner. Morgan and Cohan will also serve as executive producers. The Walking Dead Universe Chief Content Officer Scott M. Gimple says: "Eli has created a chaotic, beautiful, grimy madhouse of the dead for Negan, Maggie, and fans of the show eager to discover an unseen and insane world of the TWD Universe."
See Also
The anthology series will also star Danny Ramirez, Loan Chabanol, and Embeth Davidtz.
The series stars are just as excited for the change in scenery. "Maggie is very close to my heart and I'm excited to continue her journey against the iconic backdrop of New York City, alongside my friend and collaborator, Jeffrey Dean Morgan," says Cohan.
Morgan adds: "I'm delighted that Negan and Maggie's journey continues. It's been such a ride walking in Negan's shoes, I'm beyond excited to continue his journey in New York City with Lauren. Walkers in an urban setting has always been such a cool image, but 5th Avenue, Empire State Building, Statue of Liberty? The greatest city in the world? The backdrop is amazing, but it's the story that Eli Jorné cooked up that is even better. Buckle up folks, Isle of the Dead is going to reinvent the TWD Universe."
If you're keeping count, Isle of the Dead will be the fifth spinoff of the flagship zombie series, which is currently airing its final season. It joins a roster including: Fear the Walking Dead (which returns this spring), the now-concluded The Walking Dead: World Beyond, summer anthology Tales of the Walking Dead and the untitled Carol and Daryl spinoff series, also planned for 2023, starring Morgan and Cohan's costars Norman Reedus and Melissa McBride.
See Also
From answers about Rick (Andrew Lincoln) to the premiere of a new spinoff, here's what we're looking forward to in the TWDU.
And while many fans have been speculating how the Carol-Daryl spinoff will kick off, their pairing is not a crazy stretch of the imagination, since their characters are long-time friends. Negan and Maggie, however, don't have that kind of happy history. And the last we saw Negan in Season 11B, he had quite literally walked out on Maggie and the group. "I think she's too unpredictable for him," Morgan told us earlier this season. "I think that he truly thinks that he's going to wake up one day with a knife in his throat."
We wouldn't necessarily blame Maggie, considering she still harbors thoughts of revenge after Negan killed her husband Glenn (Steven Yeun) way back when. So, how do we get to a point where they're traveling to NYC… together? And what about Maggie's son Hershel? Is more tragedy about to befall the single mom before this new journey begins? And what makes Negan change his mind about Maggie's thirst for revenge?
The series poster also features a nice nod back to TWD's pilot episode, where a newly-awakened Rick Grimes (Andrew Lincoln) discovered a "Don't Open Dead Inside" writing inside of the hospital. Is it a clue? We'll have to wait and see.
Isle of the Dead, 2023, AMC, AMC+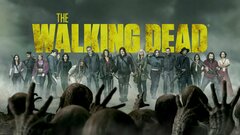 Powered by