'Law & Order: Organized Crime': Ainsley Seiger Teases the End of the Wheatley Arc
Richard Wheatley (Dylan McDermott) and Sebastian McClane (Robin Lord Taylor) continue to be a thorn in the Law & Order: Organized Crime's task force's side when the NBC drama resumes on February 24… but not for long?
After all, the season is divided into three, and we're halfway through the second arc. Until it's over, however, Wheatley remains a great concern, especially when it comes to Detective Elliot Stabler (Christopher Meloni). But Detective Jet Slootmaekers (Ainsley Seiger), with a little help from Malachi (Wesam Keesh), can handle whatever Wheatley and McClane are up to, right?
Seiger previews Organized Crime's return and hints at the end of the current arc and beginning of the next.
What are Wheatley and McClane up to in this next episode?
Ainsley Seiger: What I love the most about McClane and Constantine as a character is that there's all of this, as far as Jet is concerned, mythos surrounding him as a dark web presence. For her through work to actually be learning a little bit more about the intricacies of who this person is is really fascinating because I think Jet functions in a very black and white world morally. As this arc goes on, she's realizing that McClane may be more of a gray area that she's not as familiar with and it'll be fun for people — at least I hope because it was for me to read about how his storyline wraps up. 'Cause I do have a lot of love for his character. [His and Wheatley's] team up is reluctant at best.
When we were first introduced to McClane, Jet's reaction to his name said it all.
Yeah, he's basically a dark web celebrity. He has fans, devotees,  people who are taking his word as law, which is terrifying, no matter who it is you're dealing with. Jet then realizes as the arc goes on, "oh, he's just a guy." And he's like her in a lot of ways.
How will what Wheatley and McClane are up to keep Jet busy going forward?
They give Jet a lot to work with, that's for sure. Jet and Malachi both. I love working with Wesam Keesh, who plays Malachi, so much and it's been fantastic to have him around for this arc. Because it's not that I don't think Jet could handle the two of them on her own — I very much do think that she could — but this is a great way, a great avenue to go down to get Jet to realize that working on a team and asking for help does not have to be a bad thing. This has been good for Jet in terms of, "OK, I can work not only on the task force with these people who over the course of this season and a half I now trust, but I can trust other people, too."
I love the Jet-Malachi scenes. They're so much fun.
Selfishly, I love them too. They're so much fun to film. Wesam's a great guy. He's such a fantastic actor and he's such a giving scene partner. The days where we get to work together are just my favorite in the world.
How is Jet feeling about him now and going forward? He's similar to her.
Yeah, I think it parallels very nicely, the team-up between McClane and Wheatley and the reluctance there and the team-up between Jet and Malachi. She very much does not want to do it because she's independent, she's capable of doing this on her own, but it does ease the burden to have someone else there who — he would do anything she told him to do. If Jet told Malachi to run off a cliff and see what happened, I think he'd do it. [Laughs]
But it's been fun because I think Jet is also realizing that work can involve a little play as well. And it's nice for her to have someone who understands her and her abilities, not in the way that Stabler and [Sergeant Ayanna] Bell [Danielle Moné Truitt] understand her, which is, "oh, she's the best at this. She can do anything. She's the best hacker in the world." But on a very logical sense of Jet could say anything to Malachi and he would instantly pick up on it. They can finish each other's sentences because their brains work in similar ways, they run in similar circles. I just think that it's his background that sets her on edge a bit, but that starts to go away. He's very persistent. He's very good at chipping away at that brick wall that she has put up inside of herself.
What does Jet think of the Stabler/Richard/Angela of it all? That is so complicated.
It certainly is complicated. I think Jet is just grateful to only be a part of it on the outside, to not have to deal with all the interpersonal stuff that that entails. As a viewer and as myself, I'm rooting for Stabler so hard, and I think part of that is because Jet is rooting for him so hard. She can see how much of a toll that it's taking on him and just wants him to be free of it and done with that. I think that's where a lot of the urgency comes from to catch [Wheatley] in the first place, a place of, "We've gotta get him off the streets, not just because he's a horrible person who needs to be in jail, but because he single-handedly is going to ruin Elliot Stabler's life." I don't think Jet can have that.
How worried should the rest of the task force be about Stabler and Wheatley's obsession with each other? It seems like that it's just gonna like blow up in everyone's faces.
It really does seem that way, doesn't it? It does seem like this is not going to end well. And I think the way that the episodes have been titled thus far have just been so on the nose and so appropriate to their relationship. It's like what I was saying for Jet [about that] sense of urgency. I think that everyone in the task force has the same kind of fire under their asses of, "We gotta take care of this because otherwise we're not gonna have a task force anymore or it's gonna be very different because Stabler is not going to be a part of it if this goes on much longer."
What can you tease about how this third of the season ends? Because we do know that something's gonna have to have to happen with Wheatley since Dylan's going over to FBI: Most Wanted.
I'm excited for it to come to a close. I'm excited for the way that it comes to a close, as a somewhat vindictive person. I'm excited for this storyline to wrap up because I'm looking forward to seeing the ways that Elliot can grow past this destructive arch-nemesis situation. I'm excited to see him finally be able to break free of that 'cause we have known Richard Wheatley since the first episode of Season 1. He's always been a part of our world somehow. So for him to no longer be in the picture, the sun will shine on the task force that day.
There are some new characters coming in, and we know that Dennis Leary's is with the NYPD. So are there any interactions with Jet coming up there?
I'm not sure yet. I would be very excited for that though, always been a fan. But I think people will be surprised by the way that he is involved in our show. I'm excited for it. I think this next arc is super well-constructed and it's a great way to get back the protective Stabler that we all know and love.
What else is coming up for Jet? Is there anything that will be different about her in this next arc as a result of what happens in this one?
I'm not sure how much is super different. Maybe the way that she goes about doing her job is a little bit different. I'm not sure where the first few episodes of the next arc are going to take her specifically, but the biggest challenge of ending the Wheatley arc for me was figuring out how to play happy Jet. I hope it carries over into the third arc of Season 2 'cause I think she deserves to be able to smile if she feels like it.
Law & Order: Organized Crime, Thursdays, 10/9c, NBC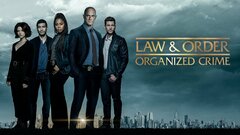 Powered by