'Wheel of Fortune' Viewers Are Stunned By Hilarious Puzzle Fail (VIDEO)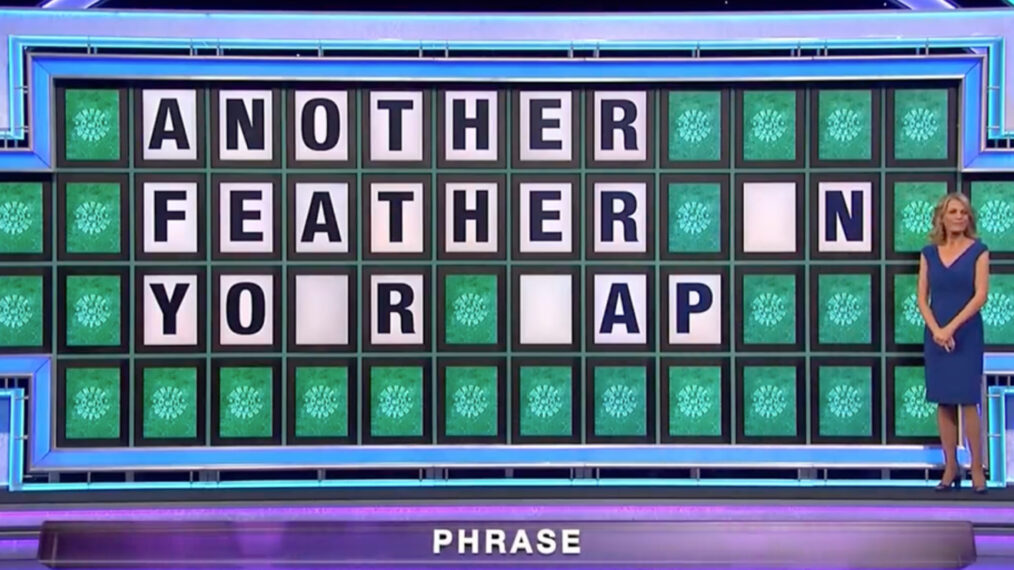 Fans tuning into Wheel of Fortune on Tuesday night were treated to one of the most cringe-inducing yet hilarious puzzle failures in the show's history.
Between three contestants, it took eight turns and 10 attempts to solve what seemed like a simple puzzle, the phrase, "Another feather in your cap." But even with only four letters missing (the I in "In," the U in "Your," and the C & P in "Cap"), the trio of players struggled to nail the answer, making incorrect guess after incorrect guess.
Contestant Laura Machado made the first attempt, guessing "Another feather in your hat," which would make for some fancy headwear, but unfortunately not the right answer here. Things started to look up when she correctly guessed the letter "P," but it quickly went off the rails with her subsequent attempts of "Another feather in your lap" and "Another feather in your map."
#WheelOfFortune Classic

Contestant A: Another feather in your hat
Contestant B: asks for g
Contestant C: hits bankrupt
A: Another feather in your lap
B: asks for d
C: hits lose a turn
A: asks for p and says "Another feather in your map"
B: bankrupt
C: solves it! pic.twitter.com/46o8PLeZlR

— MattHasTweets (@MattHasTweets_) March 2, 2022
Meanwhile, fellow contestant Christopher Coleman mistakenly went looking for the letters "G" and "B," which were nowhere to be found in the phrase. He didn't get a chance to make a third guess as the wheel landed on the Bankrupt section.
That left the third contestant, Thomas Lipscomb, who, to his credit, didn't get the opportunity to guess until his third spin, having previously landed on Bankrupt and Lose a Turn his first two times. He eventually guessed the letter "C" and correctly solved the puzzle as viewers at home breathed a sigh of relief.
Fans took to Twitter to share the embarrassing moment, and the clip rapidly spread around social media. Even Avenue 5 star Josh Gad commented on the video, tweeting, "God, help us all."
God help us all pic.twitter.com/rnQbkNvT7j

— Josh Gad (@joshgad) March 2, 2022
"I have never been on an emotional roller coaster like this while watching Wheel of Fortune," wrote one viewer, while another added, "What a tremendous disappointment these players have been. They don't get another feather in their laps, maps or hats!"
See Also
History is made again as the show's big bonus prize is won for third night in a row.
Check out more reaction below.
I have never been on an emotional roller coaster like this while watching Wheel of Fortune pic.twitter.com/pUeXw4KdHf

— Curtis Rogers (@AKidFromKent) March 2, 2022
What a tremendous disappointment these players have been. They don't get another feather in their laps, maps or hats! #WheelOfFortune pic.twitter.com/TPg28tDDf3

— Joey D (@OldSchool_JoeyD) March 2, 2022
😂😂😂 the greatest moment in television history #WheelOfFortune pic.twitter.com/NCs4qi8n76

— topical storm laura (@ladydoomfiyah) March 2, 2022
How many of you watching Wheel of Fortune right now were screaming ANOTHER FEATHER IN YOUR CAP!! I have never seen a contestant miss three times on a puzzle! She went lap, hat and map! #WheelOfFortune

— Carl Hamilton (@hammy725) March 2, 2022
These might be the most clueless #WheelOfFortune contestants I've ever witnessed.

— ᑕᕼᖇIᔕ ᔕOYᗩᑎGᑕO (@csoy13) March 2, 2022
Wheel of Fortune tonight has me 😂😂😂😂

CAP
the whole world was yelling it!!#wheeloffortune

— Kimberly Kroll (@kmkroll31) March 2, 2022
Wheel of Fortune, Syndicated, check local listings