'Winning Time' Co-Creator on Capturing LA Lakers' 'Showtime' Era
Transport back to the over-the-top world of the 1980s through a gold and purple sports lens with Winning Time: The Rise of The Lakers Dynasty. The upcoming HBO drama, based on the book Showtime: Magic, Kareem, Riley, and the Los Angeles Lakers Dynasty of the 1980s, traces the ascension of a beloved sports franchise that helped turn the NBA into big business.
It's a story Jim Hecht, one of the series' creators, writers and EPs knows all too well. The lifelong fan brought a passionate pitch to author Jeff Pearlman about adapting his book. As a 10-year-old, he would wait outside the Forum in hopes of getting a glimpse of his larger-than-life heroes from the court.
Much like the Lakers, this project brings a strong starting lineup with EP/director Adam McKay attached alongside stars John C. Reilly (team owner Dr. Jerry Buss), talented newcomers Quincy Isaiah (Magic Johnson) and Dr. Solomon Hughes (Kareem Abdul-Jabbar), Gaby Hoffman (Forum GM Claire Rothman), Adrian Brody (Coach Pat Riley) and even Sally Field (Jerry Buss' mom Jessie), to name a few.
Here, Hecht delves into the show's eight-year journey and why he's sure it will appeal to more than the NBA fan.
Talk about the immense pressure you felt to get the story you cared so much about just right.
Jim Hecht: We shot the pilot in 2019. We were going to shoot in spring, but it was pushed back a year due to the pandemic. We were in the writer's room for essentially over two years. In that time, we had an opportunity to pour through just about everything that had ever been written about the "Showtime" Lakers. I think for [co-creator and EP] Max Borenstein as the steward of this process it was really important to draw from the real words and the real things that happened. We're very conscious never to stray from the truth of our characters, who they are, and the story we are trying to tell. We have been pretty painstaking to find and know every little detail left to discover about the "Showtime" Lakers.
How do you feel about the cast? You wanted stars but to also bring a certain level of authenticity. It's a delicate balance.
In the early stages, I would always be asked how we were going to cast Magic and Kareem. Where you are going to find guys that tall who can act and embody those people? Francine Maisler pulled that off. Somehow she found Quincy. The first time we saw him it was like, "That's the guy. I see it." Solomon with a Ph.D. and being a professor and able to embody the internal intellectual world of Kareem — I really feel we got that. I had a hard time before I saw it picturing John as Dr. Buss. The first time I saw John in hair and makeup I was like, "Oh my God, it's him." Jason Clarke as Jerry West — one of the most complicated people in all professional sports. Jason just becomes that guy.
And then you think about the actual basketball playing.
Early on we wanted to put the guys through a training camp so they played like the '80s Lakers. Before we officially offered Quincy the part, we put him on the floor with Rick Fox. It was brutal. Rick was like, "I'm going to make the kid throw up." He put Quincy through the most brutal workout I've seen anyone go through. Crazy stuff. Quincy, you can tell wanted to throw the ball to Rick's face. He was like, "No, let's keep going." He got through it, and now he is Magic Johnson.
Have you gotten much feedback from those being portrayed?
We've heard through the press. Magic said what he said on TMZ. I got a lot of it from my friends. I only thought, "Magic Johnson is talking about the show!" I hope they like it, but I can't control that. I don't know how I would react to somebody's depiction of me. I understand where they are coming from, but it's a labor of love. I met Magic Johnson when I was 6. I stood in line at the Westminster Mall for two hours. I keep that picture. Magic Johnson was my hero growing up. So it comes from that perspective. Whatever they think about how they look on screen, I hope they know it comes from a place of extreme love. Max and I have season tickets. We go to games together. We probably went to 20 games together. And we went when they were terrible.
In the past, you've mentioned the show has a Friday Night Lights vibe. How do you feel the series will resonate with audiences that aren't necessarily sports fans?
There is almost this feeling of The Crown where The Crown is about a monarchy but is it really? Our show is about basketball, but it's really about these certain people. So you can take basketball out of it, and it would appeal to basketball fans but also everybody. That's what I loved about Friday Night Lights. They are not only great people, but their relationships are complicated and super nuanced and bring up all these issues about race, class, society. At the same time, there are these iconic personalities competing at the highest [level], trying to make history. For me, it's a perfect storm of all those factors.
As the season progresses into a potential season 2, would the focus turn to another timeline or stay the course?
We're trying to figure that out. We're working on writing season 2 whatever that may be. It hasn't been officially ordered or anything, but our days are full. Let me put it that way. In my mind, I thought every [basketball] season is a season or two. When we talk about it, this could go 20 seasons. You could just follow these guys and this team with history still being written.
How are we going to be left feeling at the end of this season?
I hope you feel the same way when Game of Thrones or Succession is done for a season. Where it's like, "I hate you, HBO. How are you going to make me wait a whole year to see how this all comes out?"
Winning Time: The Rise of the Lakers Dynasty premiere, March 6, 9/8c, HBO
The series will also stream on HBO Max.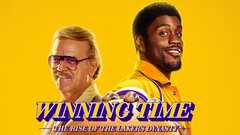 Powered by