'General Hospital': Dominic Zamprogna Talks Dante & Sam's 'Contrarian Dynamic'
It appears as if the General Hospital good guys are finally going to get their man — Peter August (Wes Ramsey) — now that they've gotten a lead on the evil villain and Maxie's (Kirsten Storms) whereabouts. For Dante Falconeri, played by Dominic Zamprogna, it's deeply personal given that Peter escaped his custody and shot his pal/boss Mac Scorpio (John J. York) the last time he got away.
Along with wanting to bring Peter to justice, Dante's involved in a romance with Sam McCall (Kelly Monaco). The actor talks candidly about what the new pairing is like, especially since both Dante and Sam have been part of other long-term couplings — his with Lulu (Emme Rylan), currently in a coma, and Sam with Jason (Steve Burton), who is presumed dead. Read on for the scoop!
Everyone's after Peter now. This must be personal now after his escape from Dante's custody.
Dominic Zamprogna: [Laughs] I think it's personal with everybody. I don't think there's anyone on the canvas who doesn't want to be the one [to bring Peter down]. There's no love lost. At this point, Peter's gotten away too many times from Dante.
See Also
The longtime 'GH' star breaks down Laura's recent return, her relationship with brother Martin, and what it's like working with another on-screen brother, Jeff Kober.
Peter seems to have an unlimited supply of funds and luck.
He's slippery! But it's cool. It makes for good stuff. This week is going to be great. It's old-fashioned action stuff that we haven't done in a while. We're kicking a little bit of butt and there's a surprise ending. I think it's going to be fun. I think people are dying to see this come to a conclusion – whatever that may be. I'm going to watch it – and I shot it.
What's working with Wes like?
Wes is a consummate professional. There's never a day I work with Wes that he doesn't do what's best for the scene. A while back, I submitted a few scenes ago that I had with Wes after Nathan's [Ryan Paevey] death and got nominated [for a Daytime Emmy]. Wes is always prepared. We did those scenes in the hospital [that aired] a few weeks ago. Dante said Peter didn't know anything about him. I've always enjoyed working with Wes. It's never about anything than the work in front of us. At the end, we always say [to each other], 'Hey, that was awesome.'
Peter's fairly confident that while he can step aside from the law, Dante will not.
That's true… to a degree. I think we'll see moments where Dante will go with his gut a little bit more.
You're sporting a look that I've never seen before – Dante's got a Port Charles Police Department regulation haircut but it's still stylish and those suits are pretty sharp.
[Chuckles] You didn't like my beard? Maura West [Ava] really loved my beard. She'll tell me that all the time. I'd had the beard for a year-and-a-half. I was ready to let it go. The day I shaved people were like, 'Holy [expletive]…you look like a different person.' It's almost easier to get into character when you have a look – Dante was messed up back then [when he had the long hair and beard]. The change is cool. I didn't want to just go standard short hair. I wanted to keep something different. Frank [Valentini, executive producer] was into that. We just kind of went with it. I wasn't sure I was going to dig [my new look] but I do. It's based in reality. If you're undercover, you're in street clothes. If you're a detective, you're in suits.
What feedback have you gotten on the Dante-Sam pairing?
I know it's a bit of a challenge for fans to see [new pairings]. But I think we might be winning some of them over. Fans fell hard for Dante and Lulu. I imagine it's an even more intense experience for "JaSam" fans. I know it's a challenge. It's new. In real life, people might say they don't like someone who is dating a friend of theirs but that's because of how their friend is being treated.
If we've learned nothing else the last few years, it's that nothing is forever.
Right. Kelly and I were talking about Sam and Dante. I love that it's not what Dante and Lulu were. You've got a contrarian dynamic between Sam and Dante. He's a cop. She's an ex-con/private eye. This is new territory for both of them. It's making some interesting stuff to play. We didn't rush the "I love yous" with each other. They came out over time. I think more and more people are wanting to see where they could go.
General Hospital, Weekdays, ABC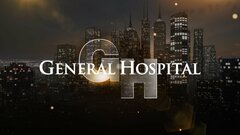 Powered by