'Heartland' Season 15 Premiere Date Set on UP Faith & Family — Watch the Trailer (VIDEO)
Heartland's new season is coming to the U.S. sooner than you might think!
UP Faith & Family has set the Season 15 premiere for Thursday, March 17, TV Insider has learned exclusively. Plus, we have a look at the trailer teasing what to expect. Check it out above.
Episodes will be released weekly. The streaming service is the first place in the U.S. to watch the new episodes of the beloved show and the only place where fans can catch up on all the previous seasons while they wait for its return. And you might want to consider doing that to see why it was the fifth most-streamed series in 2021 (according to a recent Nielsen report).
Heartland is the longest running one-hour drama in Canadian television history and set in the rolling foothills of the Rockies in the fictional town of Hudson, Alberta. Heading into the new season, the Bartlett-Fleming family has learned that life is short and you have to live each day to the fullest, and they will put that into practice.
After saying goodbye to the past, Amy (Amber Marshall) embraces the future, raising her daughter and working with the horses who continue to heal her while she branches out into a new phase of her life and profession. Jack (Shaun Johnston), Lisa (Jessica Steen), Lou (Michelle Morgan), and Tim (Chris Potter) have all decided now is not the time to pull back, but to ramp up, to create new dreams and fulfill old ones. As always, the family will pull together to help one another and end up stronger than ever.
See Also
The star calls the Season 14 premiere 'one of the most beautiful episodes to date.'
"The fandom around Heartland is remarkable," said Angela Cannon, vice president and channel manager, UP Faith & Family, in a statement. "Fans know that UP Faith & Family is truly the U.S. home for all things Heartland, and it is an honor and privilege to bring Heartland viewers the newest seasons of this fan-favorite series months before anyone else. Subscribers to the service get the insiders VIP access to never-before-seen bonus content, produced exclusively for UP Faith & Family. There is no doubt season 15 is going to be another exciting and highly emotional season. Being the 5th most streamed show for 2021, viewers will not be disappointed."
Heartland is based on Lauren Brooke's bestselling books. Showrunner Heather Conkie, Michael Weinberg, Tom Cox, and Jordy Randall serve as executive producers. Dean Bennett is a producer. The series is written by Conkie, Mark Haroun, Ken Craw, and Alexandra Clarke. Season 15's directors are Pierre Tremblay, Ken Filewych, Potter, Kristin Lehman, Morgan, Gloria Kim, and Bennett.
Heartland, U.S. Season 15 Premiere, Thursday, March 17, UP Faith & Family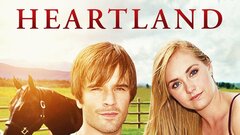 Powered by