'FBI: International' Promo: Forrester's Mom Needs His Help (VIDEO)
When FBI: International returns, it's with a very tense mother-son reunion. Is there any explanation that Special Agent Scott Forrester (Luke Kleintank) will accept from Angela Cassidy (Elizabeth Mitchell)?
"I need your help," the former foreign service officer tells her son in the promo for the February 22 episode, "One Point One Million Followers." But, as he reminds her, she's a traitor who sold secrets to the Russians before disappearing in 2005. "I'm not who you think I am," she insists. The logline teases "Forrester must make a decision involving his mother's past." So what does she have to tell him? Will it change his mind about anything? Watch the video below.
Based on the promo, this episode is picking up where the last one, "Chew Toy," left off. In that one, Forrester received an email with the street name he grew up on and a photo of himself as a child. Special Agent Andre Raines (Carter Redwood) was able to trace it to Moscow — where Angela was last spotted, recently — and revealed that malware had been hidden in the photo. By double-clicking it, the sender could track Forrester's location.
Rather than take Raines up on his offer for a new phone, Forrester held onto his, claiming he'd swap out when they returned to Budapest from their current case. Instead, it became obvious, he was using that to set up a meeting. Angela found him at a bar after the case, and we were only left with their greetings.
As for the case in "One Point One Million Followers," when a notorious American tech tycoon becomes involved in a murder in Frankfurt, the Fly Team must chase him down amid the local protestors he's incited with his conspiracy theories on social media. Plus, Europol Agent Katrin Jaeger (Christiane Paul) relishes working in her home country.
FBI: International, Tuesdays, 9/8c, CBS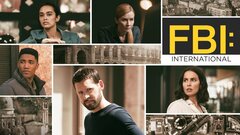 Powered by