'Domino Masters' Host Eric Stonestreet Teases 'Fun & Education' — Plus, a Sneak Peek! (VIDEO)
"This is like camping—it's intense," says Domino Masters host Eric Stonestreet. Pun aside, he's not joking.
The goal in this tournament-style competition is for teams to design, build and set off elaborate chain reactions (e.g., Rube Goldberg machines) that tell a story (sports-themed on March 9), work when Stonestreet shouts, "It's topple time!" and impress the judges (domino maestro Steven Price, actress and math advocate Danica McKellar and NFL great Vernon Davis).
The Modern Family Emmy winner fills us in. Plus, watch an exclusive sneak peek above of a full topple, narrated by Joe Buck, to see just what can be built using dominos.
What did you love about this show?
Eric Stonestreet: It's this collision of fun and education, because there's so much to learn about how everything works and then the fun of knocking it all down. We have people who have been doing this for 20 to 30 years. I didn't consider just how invested I would get in them succeeding.
We didn't expect to see the builders sweating!
It's grueling, because they're down on their hands and knees for 16 hours. The stamina that is required, and the emotion: You're going to see a lot of inner-team drama. If you're spending all of your time arguing over who's going to do what, nothing gets done!
Modern Family fans will be happy to hear you lighten the mood by dressing as your clown persona, Fizbo.
There's a circus-themed episode, and I said, "You know, I've always wanted to be a circus clown." [The producers] were like, "Bring it on!"
Domino Masters, Series Premiere, Wednesday, March 9, 9/8c, Fox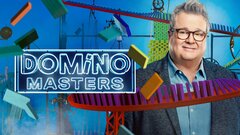 Powered by