'American Auto': Will Katherine Lose Her Job in the Season 1 Finale?
Having taken so many dings to her reputation over the hilarious first season, Payne Motors' beleaguered new CEO Katherine Hastings (Ana Gasteyer, above) hopes a TV newsmagazine profile will help polish her image.
"Katherine knows her job is in jeopardy," says American Auto creator Justin Spitzer. "Depending on how this interview goes, it could be her salvation or it could be the final nail in her coffin."
Adding to the suspense, some of her staff worry that the reporter (Marc Evan Jackson) plans to paint Katherine in a less-than-favorable light. Is she in for a slew of uncomfortable questions? "As to whether there will in fact be any gotcha questions, I don't want to say," Spitzer teases. "So in a sense, your question about gotcha questions is, in itself, a gotcha question." OK, ya got us!
American Auto, Season Finale, Tuesday, March 8, 8/7c, NBC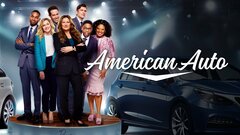 Powered by