'Lucy and Desi': What We Learned From Prime Video's Documentary
In Being the Ricardos, writer-director Aaron Sorkin zeroed in on one (fictionalized) week in the lives of Lucille Ball and Desi Arnaz (above). This intimate new documentary, directed by Amy Poehler, gets to the real story of their careers and relationship. With the help of home movies, early scenes of their screen work and previously unheard audio recordings, there's a lot to discover.
Lucille Ball was not born a comic but turned herself into one. Early in her career, she played in lurid melodramas and Westerns. She decided to study Charlie Chaplin and Buster Keaton, evolving into one of TV's best physical comedians.
See Also
The Prime Video film, starring Nicole Kidman and Javier Bardem, recounts the scandals that nearly undid America's sweethearts.
Due to his stint in the Army and then taking his Latin orchestra on the road, Arnaz and Ball spent about 18 months together during their first nine years of marriage. Eager to start a family, they came up with a way to be together: I Love Lucy.
Ball's second pregnancy led to the transformation of the industry. In 1953, TV shows aired once. Because Arnaz insisted on using 35mm film, not kinescopes, the sitcom was able to air repeats while Ball was on leave. The rerun was born!
Lucy and Desi, Documentary Premiere, Friday, March 4, Prime Video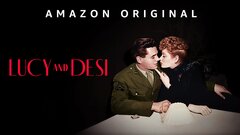 Powered by