'Promised Land' Moving to Hulu to Finish Its Season 1 Run
The good news: You will get to see how the first season of Promised Land ends. The bad news: It won't be on ABC, and chances are there are only six episodes left of the series.
The drama has been pulled from the network's primetime schedule, TVLine reports. The last episode to air on ABC is Episode 5, on Monday, February 21, at 10/9c. Starting with Episode 6 on March 1, the rest of the season will be released on Hulu on Tuesdays. The switch comes at the midway point of the 10-episode season.
"Promised Land is a beautifully executed and tremendously entertaining series of which everyone at our company is extremely proud," an ABC rep said in a statement to TVLine. "We know it has a passionate audience that is very invested in this show, and those viewers will be able to stream all subsequent episodes exclusively on Hulu every Tuesday for the rest of the season."
In "Los Rivales (Rivals)," the last episode to air on ABC, Joe (John Ortiz) reluctantly accepts Father Ramos' (Yul Vazquez) help. Lettie (Cecilia Suárez) spends the day with Daniela (Natalia del Riego), while Mateo (Augusto Aguilera) finds an unexpected business partner in Carmen (Mariel Molino). Plus, Veronica (Christina Ochoa) uncovers more about Michael (Andrew J. West), and young Joe and Billy (Rolando Chusan) encounter a visitor from their past.
See Also
Plus, the show's actors reveal what wines their characters would be in fun video.
The move over to Hulu comes as the generation-spanning drama about a Latino family vying for wealth and power in California's Sonoma Valley has seen low ratings, with a 0.2 rating in the key demo (among adults 18-49) and, with its latest episode, 1.5 million viewers. Its Live+7 DVR numbers are low as well, with an average of 2.9 million viewers and a 0.3 rating (last for ABC dramas).
Promised Land also stars Tonatiuh, Andres Velez, Katya Martín, and Bellamy Young.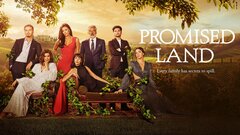 Powered by