'The Staircase': Colin Firth & Toni Collette Are the Petersons in First Look (PHOTOS)
HBO Max has unveiled its first look at The Staircase, the upcoming limited drama series based on the famed true crime.
The highly-anticipated eight-episode Max Original stars Colin Firth and Toni Collette as Michael and Kathleen Peterson. The series is inspired by the true story exploring the lives of Michael Peterson and his sprawling North Carolina family, along with the suspicions surrounding his wife Kathleen's mysterious death.
The first look photos tease happier times for Kathleen and Michael as Collette and Firth embrace, meanwhile the other image, above, teases the close-knit family at the center of this series from showrunners and executive producers Antonio Campos and Maggie Cohn.
The story of the Petersons was famously documented in the Netflix docuseries, also titled The Staircase, and this new version tells the story in a fresh way. Along with bringing this version of the story to the screen as showrunner and executive producer, Campos also serves as a writer and director of six episodes.
Joining Collette and Firth in the series are Michael Stuhlbarg, Juliette Binoche, Dane DeHaan, Olivia DeJonge, Rosemarie DeWitt, Tim Guinee, Patrick Schwarzenegger, Sophie Turner, Vincent Vermignon, Odessa Young, and Parker Posey.
No premiere date has been set for The Staircase yet, but stay tuned for more on the upcoming HBO Max series including a debut date, trailer, and much more. And in the meantime, catch up with the story behind this series by streaming The Staircase (2004) on Netflix.
The Staircase, Series Premiere, TBA, HBO Max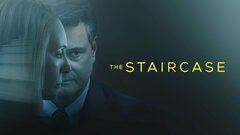 Powered by