Roush Review: 'Mrs. Maisel' Still Marvelous in 1960
Sounds like a punchline, and stop me if you've heard this one before (or better yet, don't): A lady comic walks into a strip club. Apply your own rim shot.
It's been a long two years waiting for Prime Video's The Marvelous Mrs. Maisel to return, and we'd be lying if we said the situation was marvelous — or even bearable — for Midge Maisel (live wire Rachel Brosnahan) in the long-awaited fourth season of this delightful period comedy about a female stand-up pioneer in 1960.
Fired from a world tour and left stranded on the tarmac, in hock to her father-in-law for the luscious New York apartment she has just bought back, she's also at odds with her profanely cantankerous manager, Susie (the invaluable Alex Borstein), who has gambled away much of their nest egg.
"I'm not ready to be a failure yet," Mrs. Maisel declares. Not to worry. Whether she's grabbing the spotlight and microphone wherever she can — even if it means sabotaging a fellow comic at the risk of being blackballed — or merely dealing with the insanity at home as a single mother, we all know Midge is a superstar just waiting, and waiting, and waiting, to happen.
See Also
Rachel Brosnahan teases new characters (hello Milo Ventimiglia!) and huge changes, and gives an update on favorite characters like Rose, Abe, and Susie.
The witty banter (courtesy of series creator Amy Sherman-Palladino) flies fast and furious as always, reaching a hilarious apex in the premiere during a tour de farce aboard Coney Island's Wonder Wheel. Just about everyone's in on the act: her fussy parents (Tony Shalhoub and Marin Hinkle), her meddling ex-in-laws (Kevin Pollak and Caroline Aaron), her concerned ex (Michael Zegen), and their thankfully clueless kids.
It can all seem a bit relentless, with father Abe (Shalhoub) matching wits amidst the cynical bohemian journalists downtown at the Village Voice, Susie scrambling to cash in on an insurance scheme, and ex-husband Joel (Zegen) battling his Chinatown overseers at his fledgling nightclub that's a front for an illegal gambling den. But it's also exhilarating.
Much like the show's memorable title character, whose I've-gotta-be-me epiphany couldn't come at a more opportune time. We're rootin' for ya, kid. We know you won't let us, or yourself, down.
The Marvelous Mrs. Maisel, Season 4 Premiere (two episodes weekly), Friday, February 18, Prime Video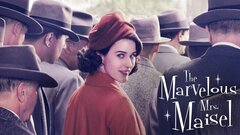 Powered by