'Stanley Tucci: Searching for Italy' Acquired by BBC From CNN
The CNN docuseries Stanley Tucci: Searching for Italy is heading to the BBC as the broadcaster has acquired the six-part food and travel show, which will land on BBC Two and iPlayer on February 27.
Produced by CNN and London-based film and television production company RAW, the series follows the Oscar-nominated actor as he travels around Italy, uncovering lesser-known places and exploring their cultures, cuisine, and history. Episodes in the first season include visits to Naples, Rome, Milan, and Tuscany.
"It has been a dream of mine to make this show for many years and a great joy to make it with CNN and RAW," said Tucci (via Variety). "I am so honored that it has been acquired by the esteemed BBC."
The first season began filming in the fall of 2019, with four of the six episodes having wrapped before most of the world shut down due to the coronavirus pandemic. The remaining two episodes, set in Naples and Bologna, were completed in 2020 in the midst of the pandemic. CNN renewed the show for a second season in February 2021.
"We're excited to take viewers on an unforgettable journey with the fantastic Stanley Tucci across a country renowned for its incredible food," said Jo Lapping, the BBC's head of factual acquisition. "It's a brilliantly entertaining and mouth-watering experience we know viewers will enjoy."
Speaking with The Hollywood Reporter last year, Tucci said that he was influenced by the late chef Anthony Bourdain, whose Parts Unknown travel series was a huge hit on CNN.
"The show that we are doing is distinctly different than his: I am not nearly as adventurous as Tony was, not nearly. Or as brave. But what he did is open the doors to all of us who were interested in food, and travel, to explore in our own ways," Tucci explained. "He was an extraordinary writer, a nice person, and a great explorer of the human condition through food."
Tucci most recently starred in the Spanish-American adventure drama miniseries La Fortuna and will next be seen in the Amazon drama series Citadel.
Stanley Tucci: Searching for Italy, CNN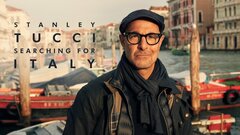 Powered by