Chevy Chase Addresses Claims He Acted Like a 'Jerk' on 'Community'
Emmy-winning actor and comedian Chevy Chase is standing his ground when it comes to accusations that he acted like a jerk on the set of former NBC comedy Community.
In an interview with CBS Sunday Morning this weekend, Chase was asked about his time working on the Dan Harmon sitcom. The Saturday Night Live alum played the abrasive and rude Pierce Hawthorne in the cult-favorite comedy. However, he would ultimately exit the series after four seasons due to frequent conflicts with Harmon over the direction of his character.
"I guess you'd have to ask them. I don't give a crap!" Chase laughed when asked about his time on Community and his co-workers' negative experiences with him. "I am who I am. And I like where — who I am. I don't care. And it's part of me that I don't care. And I've thought about that a lot. And I don't know what to tell you, man. I just don't care."
In 2012, it was reported by Deadline that Chase had an outburst on set, during which he was said to have used the N-word, though it was not directed at his Black cast members, Donald Glover or Yvette Nicole Brown. Instead, Chase was frustrated with the bigoted direction Pierce was heading, suggesting he "may next be asked to call Troy (Glover) or Shirley (Brown) the N-word."
The controversial outburst upset the cast, and Chase later apologized. But it was another example of the comedian's long-running feud with Harmon and the show's writers. At the time, it had been reported that Chase had stormed off the set in the middle of filming several times and had also gotten into arguments with Community executive producers-directors Anthony and Joe Russo.
"It was a big mistake!" Chase told The Huffington Post UK in 2012 when asked about signing on to Community. "I just sort of hung around because I have three daughters and a wife, and I figured out I might as well make some bread, every week, so I can take care of them in the way they want."
"The hours are hideous, and it's still a sitcom on television, which is probably the lowest form of television," he added before praising his fellow cast members. "I think the reason I have stuck around is because I love these kids, the cast — they are very good."
Community, Streaming now, Netflix and Hulu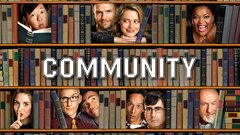 Powered by