'The Girl From Plainville' Trailer: Elle Fanning Brings a True Crime to Life (VIDEO)
Hulu is unveiling the first look at its limited drama series The Girl From Plainville with a new trailer featuring Elle Fanning.
The eight-episode season, which kicks off with the first three installments on Tuesday, March 29, tells the true story of Michelle Carter (Fanning) and the "texting-suicide" death of a boy she knew. The series is based on the Equire article of the same name by Jesse Barron.
The Girl from Plainville explores Michelle's personal and texting relationship with Conrad Roy III, a young man who lived a few towns over from her. The show chronicles the events leading up to his untimely death and later Michelle's conviction for involuntary manslaughter.
Texting conversations were used to support the stance that Michelle encouraged Conrad to kill himself. The case turned both Michelle's and her family's lives upside down as they became the center of the media spotlight.
In the series, the actress embodies the real-life Michelle by donning some darkened brows and the young woman's recognizable pin-straight hair. "Conrad's dead," Michelle announces in the trailer, below, as her parents try to comprehend what's making their daughter cry.
Once the texts come to light, everyone is looking for answers that Michelle can't seem to provide a clear response for. "You don't get it, this is our love story," Michelle says with conviction. Joining Fanning in the series are Chloë Sevigny as Lynn Roy, Colton Ryan as Conrad "Coco" Roy III, Cara Buono as Gail Carter, Kai Lennox as David Carter, and Norbert Leo Butz as Conrad "Co" Roy II.
Don't miss the true story drama unfold, catch the trailer, below, and stay tuned for the arrival of The Girl from Plainville on Hulu.
The Girl from Plainville, Series Premiere, Tuesday, March 29, Hulu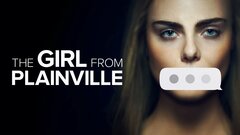 Powered by