Roush Review: The Very Long Con of 'Inventing Anna'
It's no secret that Shonda Rhimes knows her way around a juicy scandal. The powerful producer's allegiance to her ABC hit Scandal is evident in the supporting cast of her dishy docudrama opus Inventing Anna, the long-awaited followup to her breakout period romantic fantasy Bridgerton. Throughout Anna's nine lengthy episodes (many weighing in at over an hour), you'll spot Shondaland repertory players including Katie Lowes, Kate Burton, Joshua Malina, Chris Lowell and most memorably Jeff Perry.
The star attraction, of course, is the astonishing Julia Garner (a two-time Emmy winner as Ozark's formidable Ruth Langmore), trying on another wild and bizarre accent—a strangled concoction of Russian and German—as con artist extraordinaire Anna Delvey (born Sorokin), a glamorous and shockingly rude pretender who lied her way into Manhattan's highest society, duping investors and defrauding hotels and other businesses with her faux cover story as a German heiress. Likewise, Inventing Anna puckishly notes at the start of each episode that "This whole story is completely true, except for all the parts that are totally made up."
Anna's story, which took New York media by storm when her house of cards eventually collapsed in 2017, is fascinating up to a point. But did this account really need to run longer than the entire Godfather trilogy? Netflix's all-at-once binge model is at its worst in bloated series like this, which becomes repetitive as we watch mark after mark fall under Anna's spell, episode by episode, most eventually realizing they've been had but too embarrassed to willingly go public against this creepy vixen.
From news accounts and interviews I've seen, Garner perfectly nails the real Anna's voice and her cruel carapace of remorseless condescension, dismissing her victims as fools and smugly smiling when confronted with misdeeds that she can't imagine qualify as actual crimes. Weirdly, she seems to convince not just her ambitious defense lawyer (a very good Arian Moayed) but eventually the journalist who is obsessed in breaking and telling Anna's story.
Unfortunately, Inventing Anna spends nearly as much time with this other Anna: Anna Chlumsky, who gives an overwrought performance as the journalist, a pseudonymous Vivian Kent (from a fictionalized version of New York magazine), who neglects her own pregnancy in her zeal to break Anna's story and perhaps restore her own tarnished reputation. Who's using whom? Who cares? They're both awful company.
Vivian's quest to break through an incarcerated and insolent Anna's shell turns out to be a group effort, when she leans on three veteran reporters known as the "old crankies" with whom she shares cubicles in a remote corner of the newsroom. Scandal's Jeff Perry, joined by Anna Deavere Smith and Terry Kinney, steal all of their scenes as they cheer Vivian on, seeming to do much of her investigative legwork in tracking down leads and discovering new pockets of Anna's bottomless avarice.
Among Anna's many dupes, standouts include Laverne Cox as a fitness guru who yearns to believe the best in people, Anthony Edwards as a financier who gets some pep in his step after meeting Anna (before she deflates his social and professional standing) and Alexis Floyd as a scrappy concierge at the pricey hotel Anna soaks for nearly $34,000 over 47 nights. The episode in which Scandal's Lowes, as a Vanity Fair picture editor who follows Anna to Marrakech and is left holding the expensive tab in a hostile foreign land, is so stressful I almost stopped watching.
By the end, Inventing Anna may test your resolve as you decide how much time you choose to spend in the company of an unrepentant bossy narcissist, regardless of how well she's played.
Inventing Anna, Limited Series Premiere, Friday, February 11, Netflix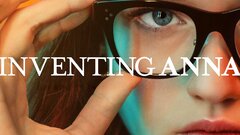 Powered by