'Yo-Kai Watch: The Movie' Premieres on Disney XD
Get 'em before they get you!
After a limited theatrical run, the feature-length take on the video game-inspired anime hit Yo-Kai Watch is set to make its U.S. television debut this Saturday on Disney XD, where the second season of episodes have already aired.
RELATED: Look Who's a Disney Villain! Jane Fonda Stars in Elena and the Secret of Avalor (VIDEO)
Telling the tale of a young boy named Nate who discovers a mystical device that allows him to see various spirits known as Yo-kai and summon them to battle other less-friendly Yo-kai, the movie sends Nate and his squad back in time to help his grandfather, who just so happens to be the guy who invented the doohickey in the first place.
And if that's not enough for fans of the funny, energetic comedy cartoon, all of Season 2's episodes will be free to view on the Yo-kai Watch YouTube channel starting on Monday, Nov. 14th. Each episode will also feature QR codes that can be used in the Nintendo 3DS games YO-KAI WATCH 2: Bony Spirits and YO-KAI WATCH 2: Fleshy Souls, as well as several iOS and Android apps. Take that, Pokemon Go!
Yo-Kai Watch: The Movie, Premiere, Saturday, November 12, 9a/8c on Disney XD.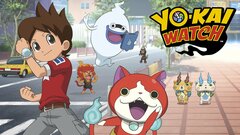 Powered by