'Don't Look Up' and 'Encanto' Begin Streaming, 'Dickinson' and 'Wheel of Time' Finales, 'Holly Dolly Christmas' and Christmas Marathons
'Twas the day before Christmas, and major movies help fill the metaphorical holiday streaming stocking, while the final season of Apple's acclaimed Dickinson and the first season of Prime Video's epic fantasy Wheel of Time sign off. As you wrap those final gifts, you could watch Dolly Parton's 2020 special again or indulge in marathons (yes, Ralphie, we're looking at you) and other seasonal treats.
Don't Look Up
Subtlety is not a virtue of Adam McKay's devastating and often uproariously funny satire about the impending end of the world as we know it. This could be the most hilarious pre-apocalyptic comedy since Dr. Strangelove, and like Kubrick's classic, this takes no prisoners as it depicts a world unwilling to focus on an impending "extinction event" involving a comet hurtling toward Earth. Leonardo DiCaprio and Jennifer Lawrence are the astronomy scholars trying to warn their fellow humans, but is anyone listening? Not the vapid president (Meryl Streep hamming it up), not the unctuous news anchors (a sultry Cate Blanchett and jovial Tyler Perry). Any similarities to the global response to climate change are absolutely intentional.
Encanto
A month after it hit theaters, this delightful animated musical is set in a magical house populated by a Columbian refugee family who each have special gifts—except for young Mirabel (Stephanie Beatriz). Lin-Manuel Miranda (Hamilton) provides the lovely score, but it's the colorful visuals that will have you humming long after.
Dickinson
For the series finale of this whimsical fantasia inspired by the life and writings of poet Emily Dickinson (Hailee Steinfeld), creator/executive producer and writer Alena Smith goes behind the camera as director for the first time. In the episode, the Dickinsons welcome a surprise guest who has come to meet the extraordinary Emily.
The Wheel of Time
Much will be revealed about the Man at the Eye of the World in the Season 1 finale of the epic fantasy based on the Robert Jordan novels. Beyond that, everything involving Moiraine (Rosamund Pike) and her young crew is a spoiler for those who never read the books.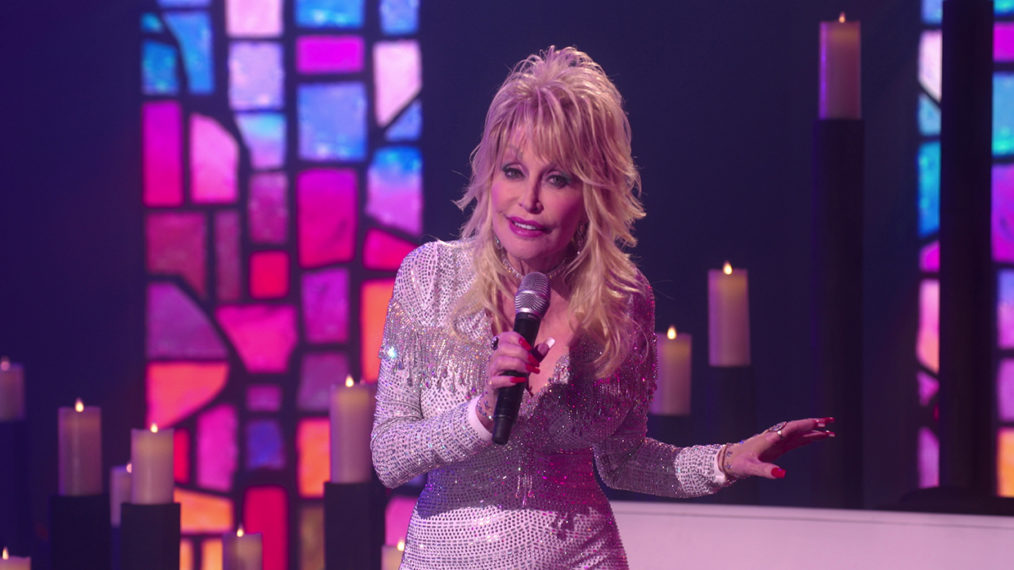 A Holly Dolly Christmas
Leading a parade of holiday favorites is this 2020 special featuring the beloved Dolly Parton performing holiday favorites and originals on a candlelit church set, while sharing moving anecdotes about her remarkable upbringing.
Other pre-Christmas options on the night before Christmas:
Inside Friday TV:
Hot Chocolate Holiday (8/7c, Lifetime): Warm up with a romcom about a coffee-shop owner (Aubrey Reynolds) who thinks a handsome restaurateur (Jonny Swenson) may have stolen her secret hot-cocoa recipe. We bet there are marshmallows galore in the climax.
Small Town Christmas (9/9c, UPtv): The cozy travelogue ends its run by celebrating with the locals in Summerville, South Carolina.
Cardinal (streaming on Hulu): In the Canadian mystery's fourth and final season, detectives John Cardinal (Billy Campbell) and Lise Delorme (Karine Vanasse) face the bitter winter climate of Algonquin Bay and an implacable force of evil when a routine missing-persons case escalates into a series of grisly murders.