'Lucifer's Kevin Alejandro on Detective Douche's Secret Life
Fallen angels aren't the only ones with something to hide around here.
In this week's episode of Lucifer, it turns out that Kevin Alejandro's Dan—aka, "Detective Douche"—is also keeping a little tidbit about himself under wraps. Even from his ex-wife, Chloe (Lauren German).
"It's funny how it's found out," previews Alejandro, explaining that it's Lucifer (Tom Ellis) who gets the goods on the recently demoted cop who is struggling to maintain a relationship with Chloe and their daughter Trixie. "Lucifer decides that he wants to figure out what makes Dan tick and who would be interested in a person like him. So he tries to figure out how to 'Douche.' Like, 'I'm, gonna try to be a normal, boring guy.'" Of course, the best way to do that is to basically stalk Dan and steal his mannerisms, but along the way, Luci also learns that Dan "for one reason or another, is keeping a secret about how he is dealing with the way his life has turned out. I think the audience is going to get a real kick out of it."
RELATED: The Cast Previews Fallout to Lucifer's Devilish Reveal
Without spoiling the therapeutic twist, Alejandro does confirm that Dan's off-the-clock activity isn't entirely unusual among officers of the law. "Yeah, some of the cops I have spoken to do this thing to sort of understand how to be in a moment and not get caught off guard. Especially the ones who go undercover."
Speaking of undercover, the episode also features some very un-covered bits of both Alejandro and Ellis as their characters hit the sauna to interrogate a Russian mobster with ties to the murder of Chloe's father, as well as more evidence that these two could actually end up being buds. Or at least not constant thorns in one another's sides.
"There is this nice little twist to the story in seeing them sort of not want to become friends, to not want to have something in common," Alejandro says, adding that Dan will continue to face the fallout from past mistakes that have cost him his marriage and damaged his career, despite this comical outing. "The [writers] are doing a good job of keeping Dan a victim of his wrong choices," he notes. "Morally, he wants to do the right thing but because of circumstances, he is forced to make decisions that eventually get him into trouble. And I think in a strange way the audience likes to see this guy go down the wrong path and see if he can dig his way out of it."
Although from the sounds of it, Dan might be headed for even more trouble if Chloe and Lucifer grow any closer. "Dan loves Chloe, he loves Trixie," Alejandro offers. "They are his world and now he has to find a new way to make that work, it's heartbreaking. And it's going to get a lot deeper and darker as we go through the season."
Lucifer, Mondays, 9/8c, Fox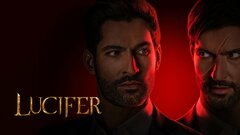 Lucifer
where to stream
Powered by