'Kevin Can Wait's Ryan Cartwright on 'Walking on Eggshells' Around Kevin James
It's every father's prerogative to be protective of his eldest daughter—but will Kevin (Kevin James) ever accept Chale (Ryan Cartwright), Kendra's (Taylor Spreitler) awkward fiancé, on Kevin Can Wait?
"I would say he's warming to me slowly," Cartwright says with a laugh. "It's never going to be a perfect relationship. I want to impress Kevin in and out of character. I'm walking on eggshells trying to be impressive."
The British actor predicts his alter ego will start getting more of a backbone, maybe even teaching Kevin a thing or two.
RELATED: Kevin Can Wait Marks Kevin James' Return to Primetime
"Chale will end up pulling some moves and helping Kevin. I think down the road Kevin and Chale will learn from each other." Cartwright is also learning from watching James, who wears actor, writer and executive producer hats. "The second we finish a scene, he has to run off and write," Cartwright says. "I don't know how he juggles it all, but he's killing it!"
Kevin Can Wait, Monday, Nov. 7, 8/7c, CBS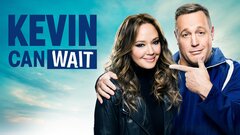 Powered by