'Kevin Can Wait' Marks Kevin James' Return to Primetime
Kevin Can Wait is the name of Kevin James's new sitcom, but it was CBS that couldn't wait to pick up the show. With 207 episodes of The King of Queens under his belt, James and fellow executive producer Rock Reuben didn't have to do much of a hard sell. Before they even pitched the concept to CBS chief Les Moonves, recalls Reuben, "He said, 'I want it! I don't even know what it is, I want it!' "
RELATED: CBS Announces Fall Premiere Dates: Kevin James, Matt LeBlanc and Michael Weatherly Return to Primetime
What it is is the story of Kevin Gable (James), a newly retired cop who's suddenly spending more time around the house with his wife, Donna (Childrens Hospital's Erinn Hayes), and their three kids. And Kevin's time at home turns out to be a tougher beat than anything he experienced on the streets, especially when eldest daughter Kendra (Taylor Spreitler) moves back home with (surprise!) a fiancé.
Hayes, a married mom of two, didn't have to try too hard to relate to Donna, a school nurse. "I [used to] fight against those parts of the mom trying to have it all," she says. "She's trying to raise the kids, have a nice marriage. I just realized, 'Why am I fighting against it?' That's exactly who I am. "
Kevin also realizes that despite being a retiree, he's not exactly a senior citizen. Along with putting in more time at home, he will take on various jobs to fill his days. "He's substitute teaching one week; he's a school mom; he's a bodyguard for a celebrity," Reuben explains. "We have all these kinds of opportunities to show that what [James] does best is be that fish out of water."
Kevin Can Wait, Premieres September 19, 8:30/7:30c, CBS.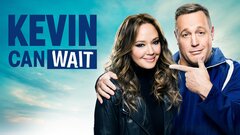 Powered by