'The Good Doctor' Gets Personal for Will Yun Lee in Season 5
The old adage "art imitates life" is really hitting home for Will Yun Lee, who plays surgeon Alex Park on The Good Doctor.
This week, an elderly Korean American shopkeeper (François Chau) and his activist daughter (Jee Young Han) come to the medical center after he's beaten in an anti-Asian hate crime. When the two have different opinions on how to deal with the attack, Park uses his experience as the son of immigrants to connect with the young woman and bridge the gap.
For Korean American Lee, whose parents owned stores when he was growing up, conversations about that hardworking generation were particularly touching. "Sometimes, because their English is limited, they become faceless," he says. "I love that this episode goes into what's in their heart and shows them as human beings."
An upcoming hour involving a young patient is also personal to Lee, whose son was born with a rare brain disease and had a stroke at only 3 years old. "I had to put the script down a couple times, just emotionally," says Lee. When the actor was cast on The Good Doctor, now in its fifth season, his son was between surgeries. "It gave me a different perspective," Lee adds. "It reminds me what the show's about—hope, and doctors chasing things outside the box."
The Good Doctor, Mondays, 10/9c, ABC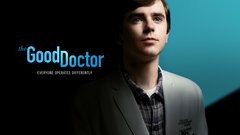 Powered by