Kate Siegel on How 'Midnight Mass' Tackles 'Faith vs. Fanaticism'
An isolated island falls prey to evils both human and unholy in the genuinely scary horror drama, Midnight Mass, written and directed by Mike Flanagan (The Haunting of Hill House and The Haunting of Bly Manor).
The seven-part tale opens with prodigal son Riley Flynn (Friday Night Lights alum Zach Gilford) returning to his coastal home of Crockett Island after a prison stint for causing a fatal DUI crash. At the same time, the community is visited by Father Paul (Hamish Linklater), a new priest filling in for their ailing pastor.
As miracles — or would that be omens? — begin to occur, the locals zealously flock back to church, while Riley, his childhood friend Erin (Kate Siegel, above, who is married to Flanagan in real life), and an ostracized sheriff (Rahul Kohli) begin to suspect they may be witnessing the unimaginable…and otherworldly.
"It's about faith versus fanaticism," teases Siegel, who's careful to avoid any spoilers. "[This show] is going to drop into people's laps and they don't know what they're going to get."
Siegel did, though. The story "has been brewing for Mike for almost as long as I've known him," she says. "He's like, 'I'm leaving this show behind for my children.' When they ask him things like, 'What's good and evil?' and 'What happens when we die?' he can point to the show and say, 'This is everything. This is my feeling.'"
Midnight Mass, Series Premiere, Friday, September 24, Netflix

This is an excerpt from TV Guide Magazine's 2021 Returning Favorites issue. For more inside scoop on the new fall TV season, pick up the issue, on newsstands now.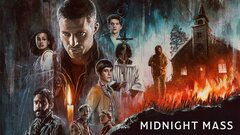 Powered by