Marvel's 'What If…?': Chris Sullivan on His Taserface Reprisal & Chadwick Boseman's Star-Lord
[Warning: The below contains MAJOR spoilers for What If…?, Season 1, Episode 2, "What if… T'Challa Became Star-Lord?"]
While the premiere of Marvel's What If..? may have belonged to Captain Carter, the animated show's second chapter meshes characters from Guardians of the Galaxy and Black Panther for one big adventure.
The installment's title asks, "What if… T'Challa Became Star-Lord?" Helping bring the unlikely scenario to fruition are Ravagers Taserface (Chris Sullivan) and Kraglin (Sean Gunn). Appointed with picking up Peter Quill, the duo plucks the wrong human from Earth, delivering a young T'Challa to Yondu (Michael Rooker) instead.
Many Marvel Cinematic Universe (MCU) stars reprise their film roles for the animated entry ranging from the late great Chadwick Boseman to This Is Us' Sullivan who viewers last saw in Guardians of the Galaxy Vol. 2 in 2017. "It was an incredible feeling," Sullivan tells TV Insider about returning to the universe. "It certainly came out of left field. I didn't expect to be revisiting the man so soon."
Despite staging a mutiny in Guardians of the Galaxy Vol. 2, unseating Yondu among their Ravagers clan, Taserface is switching things up in this What If…? scenario. "His hard edges have been softened due to leadership in the Ravagers," Sullivan reveals, hinting at the peaceful T'Challa's approach to all things.
Bringing that kindness to life onscreen in the series is Boseman who like Sullivan recorded his episodes quite a while ago. "It's an honor," Sullivan says of sharing the screen with the Black Panther actor. "It was surprisingly moving to hear him, and to see him moving around, even if it was in animated form," Sullivan adds, noting his own reaction to the installment.
"I think watching the episode was more emotional for me than I thought because the question What If…?, applies to our world too, it's a question we all ask ourselves. We all wish that Chadwick was here to continue to play Black Panther, for as long as he would be willing. And to imagine that world, to ask What If…?, is an emotional thing to do."
As emotional as it is that What If…? serves as Boseman's final outing as T'Challa, viewers still have three more episodes to look forward to featuring the actor's vocals. Meanwhile, Sullivan could neither confirm nor deny that he'll be back this season. "I would love for them to see more Taserface," says the actor. "But I cannot say, one way or the other if they will see more of him this season."
While Sullivan reprises his role, he gets to do so without all of the makeup Taserface's appearance requires. "I was in the makeup chair for probably three hours which, in the Marvel world, is a blink of an eye," the actor reveals of his experience on Guardians. "So it was nice to be able to walk in, play the character, and walk right back out." Even with the lack of makeup hassle, Sullivan admits, "I miss the makeup."
The lack of extra accessories did make the gig a bit easier and the character clearer to understand Sullivan further explains. "In the animated series, I didn't have the teeth. So Taserface is just, much easier to understand," Sullivan says with a laugh. Catch Taserface's return in the moving installment of What If…? on Disney+ now and stay tuned for more T'Challa and other fan-favorites as the season progresses.
Marvel's What If…?, New Episodes, Streaming Wednesdays, Disney+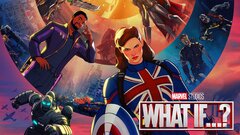 Powered by