'Agents of S.H.I.E.L.D.': An Action-Packed Emotional Rollercoaster Ride in 'Uprising'
The boys are back in action in Tuesday night's new episode of Agents of S.H.I.E.L.D., which was screened at New York Comic Con on Friday night. The episode, titled "Uprising," has plenty of action and emotion and the best of the new "Ghost Rider" saga so far. One minute, the crowd was hooting and hollering at the awesome fight scenes involving Coulson (Clark Gregg), Fitz (Iain De Caestecker), Mack (Henry Simmons), and Yo-Yo (Natalia Cordova-Buckley) and the next they were hushed as a tragic scene unfolded. As acts of terror against Inhumans plague S.H.I.E.L.D., it should be an interesting few weeks to see what will come of the threats.
Marvel Television Executive Producer Jeph Loeb, Gregg, Chloe Bennet (Daisy), and Gabriel Luna (Ghost Rider/Robbie Reyes) presented the episode at the panel. They didn't reveal much about the upcoming season, but a few comments stuck out. First, Gregg and Bennet revealed Season 4's themes to be rebellion, coping with sacrifice and regret, and coming back after tragedy. These themes have already emerged and are in the forefront of "Uprising."
RELATED: More Coverage From New York Comic Con
Second, two teases had the crowd buzzing. Gregg hinted at the magic that will start appearing in the show, indicating that Dr. Strange will have a tie-in/effect on Agents of S.H.I.E.L.D. A fan then asked Loeb when S.H.I.E.L.D. will start paying attention to the events happening in Hell's Kitchen (aka the Netflix-Marvel shows). Loeb told the audience with a smirk to stay tuned and that it's all connected. He has been known to give false hope, but after the events of the Iron Fist panel on Saturday, anything is possible. It's likely that a Netflix/ABC crossover will occur at some point soon, which would make the most sense around the time The Defenders launches in 2017.
RELATED: Marvel Introduces The Defenders, Announces Sigourney Weaver as Villain, Releases New Iron Fist Trailer
Lastly, the panel, especially Gregg, was super thrilled with how Ghost Rider has turned out visually. They are proud of the visual effects and how well Ghost Rider is fitting in. They hope the fans will embrace him and the new tone of the show.
You can watch the trailer below.
Marvel's Agents of S.H.I.E.L.D., Tuesdays, 9/8c, ABC.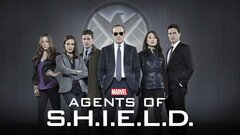 Powered by