'Versailles': Louis XIV's Extreme Intimidation Tactics (VIDEO)
It's easy to see why Versailles came out of the gate in a big way in its Ovation launch last week. With a compelling dramatization of historical events, a cast up to any challenge and fabulous costumes, the premiere delivered the arts network's largest audience to date with 557,000 viewers. The period piece drama (which has previously aired in France, Canada and the U.K.) also managed to triple the network's average prime time audience in the 18-25 demo.
Set in 1667, Versailles follows a 28-year old Louis XIV as he's becoming King of France. Created by Simon Mirren (Criminal Minds) and David Wolstencroft (Spooks), the ambitious series filmed on location at the Chateau de Versailles and at the legendary Studios de Bry in Paris.
So what's in store for this week's episode? African Prince Annaba (Marcus Griffiths) visits Versailles and King Louis XIV (George Blagden) seizes the opportunity to get what he wants during trade negotiations. Also, Philippe's wife Henriette (Noemie Schmidt) is harassed by the unrelenting Chevalier de Lorraine (Evan Williams).
Check out this clip from this week's episode, spotlighting the extremes Louis XIV will go to get what he wants.
Versailles, Saturdays, 10/9c, Ovation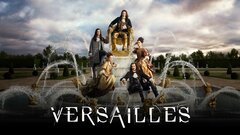 Powered by