Which Stars Are Still Around on Long-Running Shows Like 'NCIS,' 'Grey's & More?
As we wait for the 2020-2021 season to officially begin, with most return dates delayed due to the pandemic's effects on production, we're taking a look at some of the shows that have been around the longest. (For example, there are six that are in double-digit seasons.)
Cast changes are pretty much always inevitable, and in most cases, there have been some additions to the casts of these live-action series entering (or continuing) at least a seventh season. But for some, like Supernatural, Blue Bloods, and Brooklyn Nine-Nine, there has been little change. For others, like Law & Order: SVU and NCIS, there are only one or two series regulars still around from the very beginning.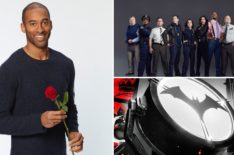 See Also
There's still a bit of time before these series return with new seasons.
Scroll down to see the series regulars that are still around (in the same capacity) on these long-running shows and others, including black-ish, Chicago Fire, and Grey's Anatomy.