'Supergirl's Heroes Look Ready for a Fight in the Season 5 Premiere (PHOTOS)
Something big is coming in the Supergirl Season 5 premiere.
That's what we can assume based on the promotional photos the CW has released for "Event Horizon," in which several of the heroes of the drama appear to be looking at something that stops them in their tracks. But as you'll see in the gallery above, they're not all wearing their super-suits.
Kara (Melissa Benoist) is, and she's ready to fight in pants this season. "We're beyond excited to update Supergirl's iconic suit," executive producers Jessica Queller and Robert Rovner have said. "We think her new image is strong and powerful. We hope the fans are as excited about it as we are."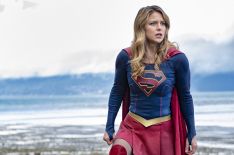 See Also
Get the scoop on romances, the 'Crisis' connections, and more from executive producers Robert Rovner and Jessica Queller.
But what is she about to face in the premiere? Could it be "Crisis on Infinite Earths"-related — the Arrowverse shows are uniting for the big crossover in December 2019 and January 2020 — or perhaps connected to Leviathan, teased in the Season 4 finale?
Supergirl, Season 5 Premiere, Sunday, October 6, 9/8c, The CW