8 Badass Single Ladies on TV Right Now (PHOTOS)
Fall has arrived, which means pumpkin lattes, apple picking, our favorite TV shows returning to our screens … and cuffing season.
The colder weather usually drives people into relationships, but not these badass small-screen ladies! Viewers could use them as an example that sometimes we're stronger on our own.
From Veronica Mars to Westworld's Maeve to the ladies of the The Bold Type, here are our favorite fierce unattached gals on TV right now.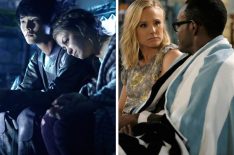 See Also
A look at TV couples who have stayed together even when their worlds were falling apart.