Can the 'Shadowhunters' Help Magnus & Stop Jonathan in the Series Finale? (PHOTOS)
Clary (Katherine McNamara), Alec (Matthew Daddario), and the others have two goals for the Shadowhunters series finale: help Magnus (Harry Shum Jr.) and stop Jonathan (Luke Baines).
Freeform has released photos from the two-parter, and at least one familiar face is back, which isn't a surprise given where Magnus is.
See Also
Freeform has promised fans a 'proper ending' to the series.
And this fight is going to need all the help it can get from allies, including Meliorn (Jade Hassouné), who already helped Jace (Dominic Sherwood) and Izzy (Emeraude Toubia) free Clary from the rune binding her to Jonathan.
Click through the gallery above to see the photos from the two episodes, "Alliance" and "All Good Things …," as everyone prepares for the fight to come.
Shadowhunters, Series Finale, Monday, 8/7c, Freeform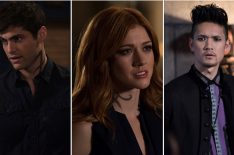 See Also
As much as it pains us to say goodbye, we're lucky to be able to still watch these warlocks, werewolves, and vampires in future series and films.