Catherine O'Hara on Moira's Most Over-the-Top 'Schitt's Creek' Fashion (PHOTOS)
Moira got her Emmy nomination!
On Tuesday, July 16, Pop TV's cult favorite Schitt's Creek was finally recognized by the television academy with an impressive four 2019 Emmys nominations, including one for Catherine O'Hara as family matriarch Moira Rose.
With the role of Moira, O'Hara has added to the pantheon of larger-than-life female TV characters with over-the-top style that includes Carrie Bradshaw and — probably closer to the mark — Edina Monsoon. As a faded soap opera star who married well and then lost everything, O'Hara wears her character's deep-seated insecurities on her sleeve — literally.
When developing the character along with series creators Eugene and Daniel Levy — who also play her husband and son, respectively — O'Hara determined that Moira should have an understanding of serious, avant-garde fashion. "I thought, I want this woman to look different. I don't want to look like your fancy rich lady," she says.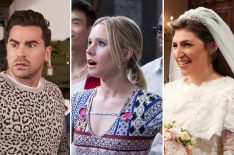 See Also
Plus, 'The Big Bang Theory' and others make the list.
She settled on heiress and outré fashion icon Daphne Guinness as a partial inspiration for Moira's look and decided early on that her character's eye-catching clothes would represent an externalization of her neuroses and frustrated creative ambitions. "It made sense because Moira had been an actress and had not worked for quite a while. So it was kind of like, I can be so creative," O'Hara explains with a laugh. "She's a bit delusional."
As the series has progressed, Moira's kids seem to be putting down roots and growing as people, but she's still the same delightfully kooky narcissist she's always been. And her clothes are still — to borrow a phrase — simply the best.
So in light of the exciting news for Schitt's Creek and O'Hara, let's celebrate by clicking through the gallery above for Moira's best looks — accompanied by some inside scoop from O'Hara herself!
Schitt's Creek, Seasons 1-4, Streaming Now, Netflix
Schitt's Creek, Season 5, Streaming, Pop Now