7 Burning Questions 'Riverdale' Season 5 Needs to Answer
[Warning: The below contains MAJOR spoilers for the Season 4 finale of Riverdale, "Killing Mr. Honey."]
You may never look at the Archie Comics the same way again after Riverdale Season 4.
The ongoing Voyeur storyline took a very, very disturbing turn in the final moments of what was originally planned to be the 19th episode of the season and ended up being the finale. Betty (Lili Reinhart) and Jughead (Cole Sprouse) followed the latest video tape to a cabin, where they found another tape waiting for them — and this one showed people dressed up in masks of them and their friends "killing" (or killing?!) "Mr. Honey." It was very, very similar to Jughead's original fictional tale for his application to the University of Iowa.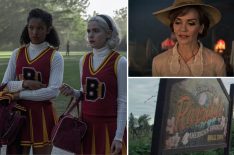 See Also
Archie's hometown makes some appearances, from familiar faces to those beloved milkshakes.
But that's just one topic we need to see addressed when the series returns for its fifth season. (It was renewed in January, along with 12 other CW shows.) Scroll down to see our burning questions after the shortened fourth season.
Riverdale, Season 5, TBA, The CW