'NCIS: LA' Reunites Kilbride & His Ex-Wife in Final Season (PHOTOS)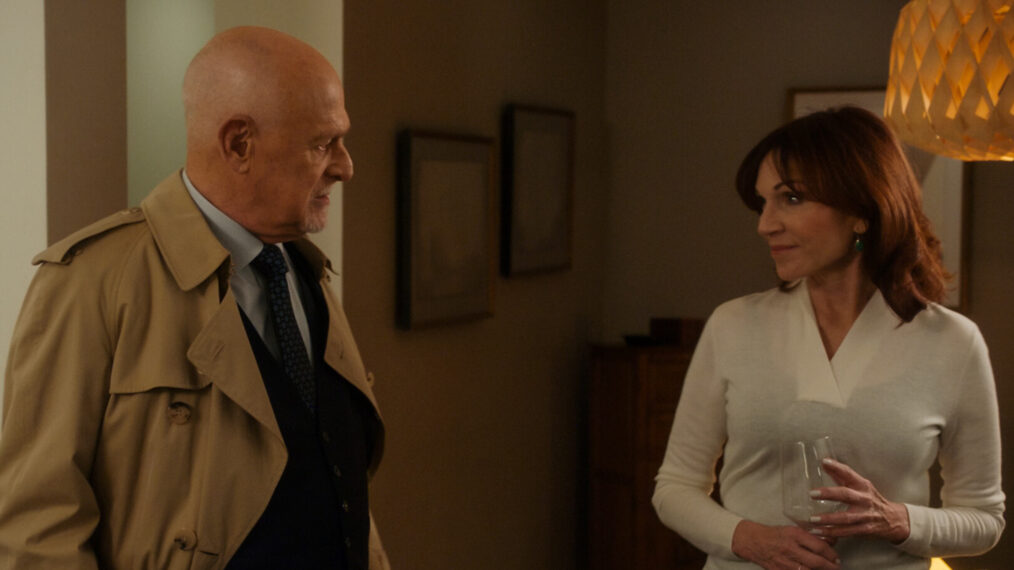 Who is Retired Admiral Hollace Kilbride (Gerald McRaney) away from work? We're probably about to get the most information about that we have yet with Marilu Henner guest starring as his ex-wife in the February 26 episode of NCIS: Los Angeles.
So what prompts this reunion? Elizabeth visits and asks Kilbride to think about reconnecting with their son in "A Farewell to Arms." The photos, which you can check out above and below, offer a look at the exes together again as well as the team working a case: The agents must identify a mystery woman who attacks the founder of an AI company before the next major global conflict ensues.
It seems likely that Elizabeth's visit has the intended effect. As we exclusively revealed last week, Christopher Gorham will be guest starring in an episode in the spring as Kilbride's estranged son, Alex, and it's going to be "a rocky reunion" as the series nears its finale.
Kilbride has only spoken a little about his family. "I have dedicated my life to the Navy, and I am proud of the career I've had. But I would be remiss if I didn't acknowledge the other side of that coin. My wife wanted a husband, my son wanted a father, and I was neither. At least my wife knew what she was getting into. My son didn't have a choice. And there is not a day goes by that I don't question whether it was all worth it," Kilbride told Deeks (Eric Christian Olsen) in Season 13.
Scroll down to check out the photos from "A Farewell to Arms."
NCIS: Los Angeles, Sundays, 10/9c, CBS