'FBI' Puts One of the JOC's Own in Danger — Get to Know the Analysts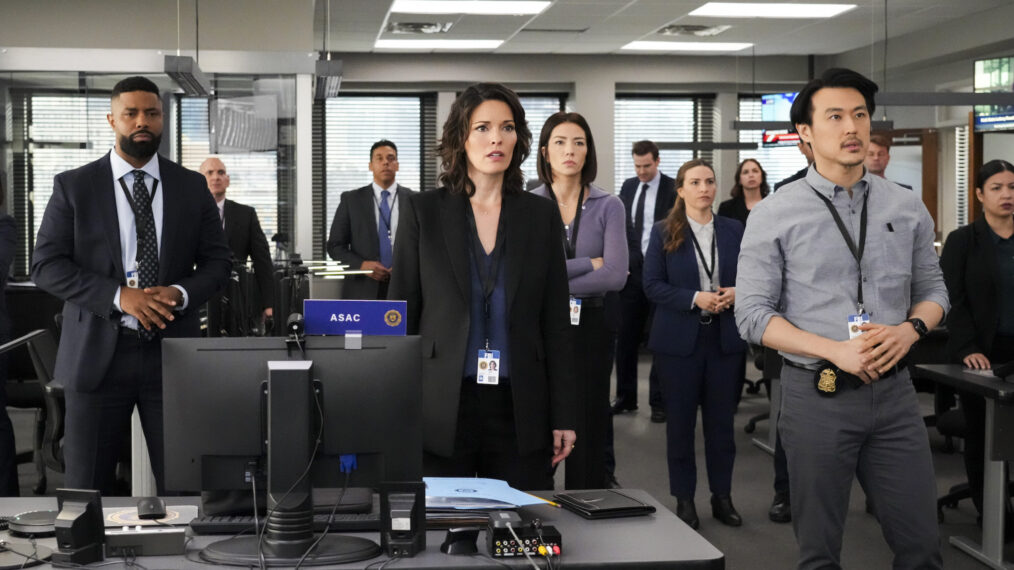 FBI shines the spotlight on the JOC (Joint Operations Center) analysts — Kelly Moran (Taylor Anthony Miller), Elise Taylor (Vedette Lim), Ian Lim (James Chen), and Agent Hobbs (Roshawn Franklin), seen each week, with Assistant Special Agent in Charge Jubal Valentine (Jeremy Sisto), finding the intel the team needs — in the January 10 episode.
"The JOC analysts play a critical role on the team, but of course, they don't see the kind of action our field agents face day to day. But they're still FBI – they have the instinct and drive to do what they can to help keep people safe," executive producer Rick Eid tells TV Insider. "This episode is about different types of heroes, and it felt natural to explore that by showcasing what the JOC analysts are capable of."
In "Heroes," the team jumps into action when Kelly is taken hostage. Elise has been in danger in the past, but why has it been Kelly this time? It all connects back to the relationship he has with Jubal.
"Kelly has a special, mentor-mentee sort of relationship with Jubal, and we've seen them look out for each other in small ways in the past. Kelly definitely admires Jubal — which means he respects his direction but also wants to impress him. That creates an interesting dynamic when Kelly's in a position where he gets to play hero, and Jubal is the one who needs to guide him through it," Eid explains.
With one of their own in danger, that puts the pressure on the others to not only get the job done but also make sure Kelly gets out alive. "The team is very protective of the JOC analysts. The emotional stakes are heightened when one of their own is in trouble, plus there's an added sense of danger since analysts don't have the same level of field training," the EP says.
Not only do "Isobel [Alana De La Garza] and Jubal, in particular, feel responsible for bringing Kelly home safe," but, he continues, "his fellow analysts back in the JOC will be under significant pressure to operate at the top of their game."
Scroll down to get to know the four JOC analysts and how each will handle this unique situation in "Heroes."
FBI, Tuesdays, 8/7c, CBS