'FBI': Alana De La Garza Says Isobel's 'Reaffirmed in Her Decision' About Relationship With Jake
[Warning: The below contains MAJOR spoilers for FBI Season 5 Episode 10 "Second Life."]
FBI gives Special Agent in Charge Isobel Castille (Alana De La Garza) some closure by revisiting a cold case.
"This was an especially fun episode to explore not only the history of Isobel but to actually see the sort of agent she was in the field," De La Garza tells TV Insider of the winter premiere.
The abduction of a young woman leads to the revelation that a missing girl, Annabelle (Kyra Belle Johnson), Isobel thought was dead is actually alive — but once again being held by the man who took her 18 years ago. (The person they thought was responsible and has been in prison? Not guilty.) And for this case, Isobel goes into the field, alongside her old partner Jake Reed (Tate Donovan), and takes a huge risk.
After the initial search of the kidnapper's cabin, it doesn't look like Annabelle's inside. Then, there's an explosion (rigged by the kidnapper), and the search team must retreat with injuries. Isobel insists on going inside to find Annabelle, even as Jake protests that it's suicide. They let her down once and she won't do that again, Isobel explains. She finds the young woman in a hidden compartment behind a bookcase and gets her out safely.
But did any part of Isobel think Jake might have been right before she entered the cabin? "I think in the end Isobel is really driven by an overwhelmingly feeling of correcting a mistake the best way she can, by saving Annabelle," De La Garza says. "There's no time to discuss with Jake or anybody else. She has to just listen to her gut. In her heart, she has to right this wrong and couldn't live with herself if something happened to Annabelle after all she and her family have been through."
During the course of the investigation, we hear about Isobel and Jake's more personal history. He insists they did the best they could when they originally worked the case, but she's not so sure. After all, they had a lot going on back then. But as Jake sees it, their romantic relationship helped them deal with the stress and late nights and they were good together. Then, after saving Annabelle and watching her reunite with her mother, Jake asks Isobel out for drinks. She turns him down.
Working with him has led to Isobel being "reaffirmed in her decision to no longer be with Jake. Maybe his ambivalence makes her come to the realization that she was right to end the relationship the first time around," according to De La Garza. "I don't think Isobel is the same person as when they dated all those years ago."
Could we see Donovan again in a future episode? "Jake works for the FBI, so he can always show up in another case," De La Garza points out.
FBI, Tuesdays, 8/7c, CBS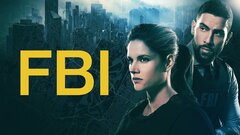 FBI
where to stream
Powered by