'Stranger Things' Stars Talk Justice for Barb, Vaguely Tease Season 2
There may be justice for Barb (Shannon Purser) when Stranger Things returns for a second season on Netflix.
The streaming series about the mysterious disappearance of a young boy in a small town exploded in popularity after its summer release. And misfit teen Barb became a cult figure for many of the show's fans, who were disappointed by her tragic death.
And though she won't be resurrected, during the show's panel Friday at New York Comic Con, series star David Harbour (Jim Hopper) teased there could be more to that story in the show's sophomore year. "We do know a little bit about Season 2, but we're not going to tell you anything," he previewed. "We do deal with the lose ends…and we do deal with some of the internet rage over Barb's death."
RELATED: Stranger Things Producers Tease the Netflix Series
Barb's popularity caught us "totally by surprise," he continued. "She has such a unique look: that haircut…and so of the time, with the mom jeans and everything. Aesthetically…and the fact that Shannon gives a great performance….it's as iconic as any of us."
Harbour was joined on the panel by his Stranger Things co-star, Millie Bobby Brown (Eleven), who wouldn't officially confirm her return—but acknowledged she's gotten scripts for the first few episodes of Season 2. Brown admitted she was a little bit frustrated by her character's silence in the first season. "I'm just like, 'Talk, Eleven!' Say where the Upside Down is!" she laughed. And Harbour is voting for a reunion between Eleven and Hopper. "There would be a rich emotional arc there that I would love to explore should it be in there this season," he said. "Should Eleven reemerge, there's a lot of territory there."
RELATED: More Coverage From Comic Con
The series will also be diving more into the loss of Hopper's daughter—including possible twists about the circumstances of her death. "One thing that was very interesting to me was it feels like [following] a loss of a daughter like that, he's truly broken in a way that cannot be healed," Harbour said. "[And they might explore] what that cancer was about and where it came from and more complexity around that situation."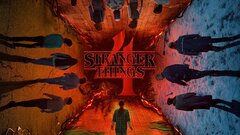 Powered by