'The Voice' Sneak Peek: John Legend Writes Team Songs for His Fellow Coaches (VIDEO)
The Voice's 20th season has been filled with plenty of memorable moments, but one part of the Blind Auditions still stands out from the crowds and that would be coach John Legend's stellar team tunes.
Every singer he welcomed to his team throughout the first round of the competition included a personally improved song from the expert to his team members. And in an exclusive sneak peek clip from the season, John is penning more songs.
See Also
Who is safe and who is going home after dramatic results episode?
Instead of crafting them for his own team, John is turning his attention to his fellow coaches and friends Kelly Clarkson, Nick Jonas, and Blake Shelton. The segment will air in between performances from The Voice's Top 9 which includes Cam Anthony, Rachel Mac, Victor Solomon, Kenzie Wheeler, Jordan Matthew Young, Dana Monique, Pia Renee, Gihanna Zoë, and Corey Ward.
Legend is quite complimentary towards his fellow coaches singing likes: "It's the place that you want to be, you know that the winning team is with Jonas." Meanwhile, he says Blake "is the king of The Voice," and tells hopefuls "I hope you're ready to win with Team Kelly."
Will those complimentary words extend to the playing field as the competition heats up? Kelly holds a lead with three singers still in the running, one more than her fellow coaches. Tune in to find out and check out the hilarious clip, above.
The Voice, Season 20, Mondays and Tuesdays, 8/7c, NBC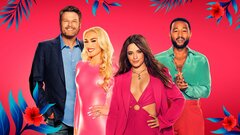 Powered by