'Chicago Med': Rhodes Gets in Trouble Over Tricky Procedure (VIDEO)
This week on Chicago Med, Dr. Rhodes (Colin Donnell) takes on a very complicated heart surgery (we get to see part of it in all its gore) without informing his way more experienced cardiothoracic mentor Isidore Latham (Ato Essandoh). Did Rhodes do it on his own because he wanted the glory of saving the patient? Or was he being considerate because it was on the Sabbath and Latham is an Orthodox Jew?
RELATED: Jon Seda on Moving From Chicago P.D. to Chicago Justice
Whatever the reason, noble or self-serving, the patient better live. As a livid Sharon Goodwin (S. Epatha Merkerson), the hospital adminstrator, makes clear, the guy with a bad ticker is a man with important contacts.
See Goodwin as she stops being polite and starts getting real in this exclusive Chicago Med clip.
Also, It's secrets all around in Thursday's episode: Dr. Halstead (Nick Gehlfuss) learns some of Maggie's (Marlyne Barrett) family confidences when he meets her sister Denise (Alexander Grey); Dr. Manning (Torey DeVitto) and her old friend turned bed buddy med student Jeff Clarke (Jeff Hephner) have to unravel the mystery of a gravely ill Indonesian man who doesn't speak English; and over in Psych, Drs. Reese (Rachel DiPillo) and Charles (Oliver Platt) have to figure out a woman's "unusual" pregnancy.
Chicago Med, Thursdays, 9/8c, NBC.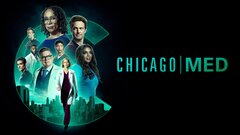 Powered by