Jon Seda on Moving From 'Chicago P.D.' to 'Chicago Justice'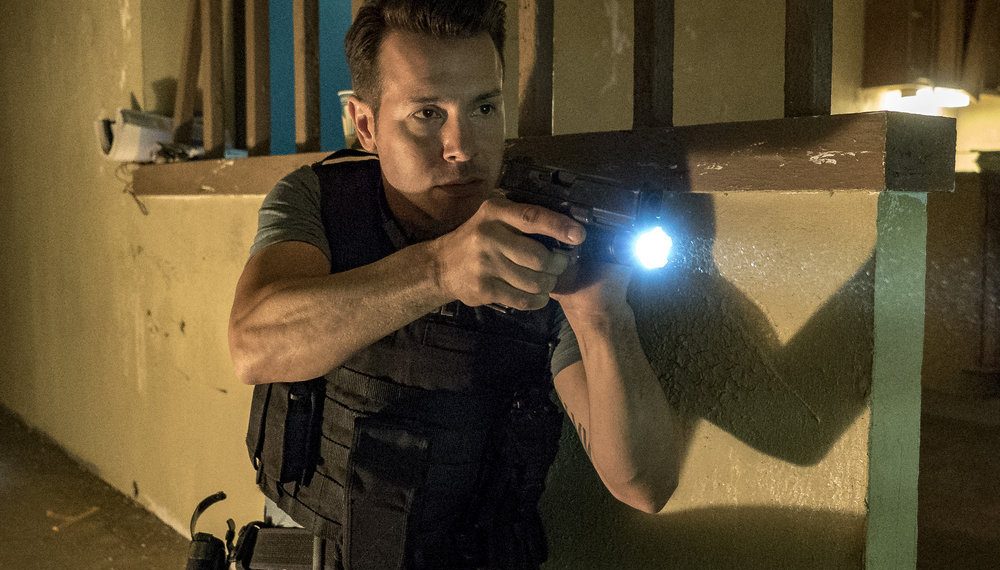 If you Jon Seda fans out there think the actor is not getting enough air time on Chicago P.D. as Det. Antonio Dawson, help is on the way. The character, who first was introduced on Chicago Fire, and has appeared on Chicago Med and Law & Order: SVU, is hanging up his detective's shield and moving over to Chicago Justice, Dick Wolf's fourth Windy-City based NBC drama. The legal series will premiere in early 2017. (Seda has actually appeared in seven of the mega-producer's series, dating back to 1995 with a guest spot on New York Undercover; in 1997, his Homicide: Life on the Street character Paul Falsone made an appearance on Wolf's original Law & Order.)
Free from the scrum of CPD cops, Antonio will be front-and-center on Chicago Justice as he switches over to work as an investigator at the Cook County State's Attorney's office in Justice. Seda gives us a head's up on what's next for his character in his new surroundings as well as with one particular female on Fire.
RELATED: My Obsessions: Chicago P.D.'s Jon Seda
How did the series switch come about?
Dick Wolf's pretty smart to take a popular character from one show and move him within the Chicago franchise. Chicago Justice will be able to flow seamlessly with the existing shows. I really feel blessed; I think it's a great opportunity for me.
Antonio often seemed pushed into the background of P.D. Will this be an opportunity for you—and the character—to do more?
I think so. On P.D., Antonio is a team player. He'll do whatever is needed to help out his unit. On Chicago Justice, it will be a little different. It's a smaller cast, and there will be much more for him to do.
Before he makes the crossover, will Antonio show signs of frustration about his job? What's his motivation to leave the unit? And the police department?
Well, he'll be the lead investigator and that gives him a wider jurisdiction, so it's a step up for him, a promotion. He'll still have a gun, cuffs and a badge so he'll still be bringing down the bad guys. He'll be slightly above the cops.
Does someone from the State's Attorney's office approach him? Does he seek them out? How does it happen?
I can't get into the details of that but I can say that Antonio's in the first eight episodes of P.D. and things will be planted in the storyline of Episodes 7 and 8 that lead up to him making the move. There are circumstances in Antonio's life—he moved from Vice to Intelligence and he's divorced and dealing with that situation. Things come together like a perfect storm that will be the reason why he leaves. I can't say more.
You've indicated some change in the family situation. Will he get custody of his kid, who's across the country?
There definitely will be references to that.
Speaking of his divorce, I know that Antonio was going to start a relationship with Fire's EMT Sylvie Brett (Kara Kilmer). Is that still happening?
It is. It's a relationship that's slowly building. I've been shooting those scenes, so I'm doing triple duty here, working on Justice, P.D. and Chicago Fire. I think that relationship between Antonio and Sylvie is something that fans will like to see.
Sylvie by then will be riding in the ambulance with Antonio's sister Gabby (Monica Raymund), who switched back her old job since her pregnancy. How's that going to work out?
Like any brother/sister relationship, one of the worst things is that someone who's close to you, winds up getting very close, in this case with your brother. [Laughs] There might be some awkward scenarios that will be coming up.
Had to ask because Antonio will be working with some hot actresses on your new show, won't he?
He will. There's Monica Barbaro (UnReal), who plays Valdez, an Assistant State's Attorney and Joelle Carter (Justified), who plays his partner Lori Nagle, another investigator. It will be trying times for Antonio. [Laughs]
How do Antonio and his new partner get along?
Well, she can go toe to toe with Antonio. Nagle is tough, she's a ball buster, she's obviously really pretty, and she's smart as well, and there's great chemistry there.
What exactly will Antonio do for the State's Attorney?
Whenever there's a case that goes to the State's Attorney, he and Nagle will go out there and investigate, put all the pieces together, get the answers and bring that information to the State's Attorney. They have to make sure they have all the pieces to be able to take a case to court. Without the investigators, they can't have a trial.
Who do they work directly for?
Carl Weathers (Rocky, Arrested Development) is the big boss, Mark Jeffries, the State's Attorney (the seat once filled by Chris Noth on The Good Wife) and Philip Winchester (Strike Back) is Peter Stone, a top prosecutor. [Note: Stone had jailed Antonio's boss, Hank Voight.] There's only five of us.
A main cast that small will give all the main characters a chance to shine, won't it?
It will. By the way, they're all great actors and a joy to work with.
RELATED: NBC Orders Chicago Justice to Series
Who will Antonio be butting heads with in his job? There's always at least one.
Antonio's a pretty strong individual and ASA Peter Stone's a pretty strong individual as well. They'll have differing opinions. But they're not the only ones. [Laughs]
Because the Chicago franchise actors hop around so much, does the cast of each show feel like one big extended family?
We really do. It's a unique situation and kind of magical. The fact that we hang out with each other in scenes and off, is pretty incredible. I think the fans will find this an easy transition for Antonio and easy to jump back and forth between the four shows. It's one Chicago, one world, as they say.
Chicago P.D., Wednesdays, 10/9c, NBC