PaleyFest: Enter to Win Tickets to the 'Gotham' Panel in New York
Every year PaleyFest celebrates television with special panels and events for some of your favorite shows. This year PaleyFest, taking place from October 6 to October 19, will host events for shows like Younger, Quantico, Gotham and much more. Appearances include Aaron Paul for The Path, Lucy Lui for Elementary, and Téa Leoni for Madam Secretary.
RELATED: Gotham Turns into a Mad City With the Court of Owls, Poison Ivy, Mad Hatter and 'Nygmobblepot'
PaleyFest celebrates production of television in New York as well, and features behind the scenes looks and exclusive content for ticket holders. To see the full lineup, check the PaleyFest site here. Below are a few of the events we are most excited about:
October 8
Elementary panel with appearances by Jonny Lee Miller, Lucy Lui, Aidan Quinn, Michael Hill, and Rob Doherty.
October 9
The Path panel featuring Aaron Paul, Michelle Monaghan, Hugh Dancy, and Jessica Goldberg.
October 17
Quantico panel with appearances by Priyanka Chopra, Blair Underwood, Joshua Safran and more.
October 19
Gotham panel featuring stars Ben McKenzie, Donal Logue, Michael Chiklis and more, moderated by TV Guide Magazine's own Damian Holbrook.
If you haven't picked up tickets, today is your lucky day as we are giving away 2 passes to the Gotham panel! For any fans of the hit Fox show that live in or around New York City, this is your opportunity to get up close with the cast, and learn about what it's like filming in the city.
Enter for a chance to win these Gotham tickets for PaleyFest, and good luck, fellow vigilantes.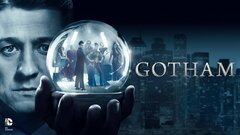 Gotham
where to stream
Powered by