'Legends of Tomorrow's Nick Zano on Being the New Guy In a Group of Time-Traveling Superheroes
The time-traveling superhero series (re)boots up for Season 2 with Nick Zano joining the action as historian Nate Heywood. Just don't expect him to spill any spoilers. "[Executive producers] Greg Berlanti, Marc Guggenheim and Phil Klemmer laid out the journey in a very veiled way because everything on Legends is very secretive," Zano says with a laugh.
Whatever their plan, it was enough to convince the L.A.-based Minority Report alum to move to Vancouver just as he and his girlfriend were about to have a child. "Not to give anything away, but when we rescue two people in the opener, I had just found out her water broke," Zano reveals. "If you watch that scene, you can see I am completely not present and thinking, 'I have to get out of here to the delivery of my baby!'" (The couple had a boy.)
RELATED: Legends of Tomorrow's Atom Gets the LEGO Treatment for Comic-Con
As if handling new-dad duties isn't enough, the actor also has his hands full saving our heroes after they go missing amid a series of strange shifts in history. Good thing Nate is able to secure the assistance of Arrow's Oliver Queen (Stephen Amell), who agrees to join the hunt for teammate Sara Lance (Caity Lotz) and Co., who have been scattered in different historical eras.
Once they do—through a parade of cleverly conceived time jumps—Zano feels Nate will next have to earn his place on the [time-traveling] Waverider ship by proving that a normal human can roll with this super-powered crowd. "Nate's the odd man out," Zano says. "This is all new, and he's doing his best. But he's got some things going against him that prevent him from fitting in right away."
RELATED: DC's Legends of Tomorrow Announces New Justice Society Heroes and Legion of Doom Villains
He also has an advantage: It will be revealed that Heywood's grandfather is classic DC Comics character Commander Steel, and Zano hints that superpowers just might run in the family. "I think the revelations start kicking off in Episode 2," Zano says. "And by the third, the ride really starts."
DC's Legends of Tomorrow, Season Premiere, Thursday, October 13, 8/7c, The CW.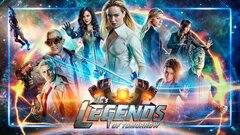 Powered by