Tantoo Cardinal on Bringing a Timely Social Message to 'New Amsterdam'
Max Goodwin (Ryan Eggold), New Amsterdam hospital's principled medical director, may have met his match in patient Jane Munsee (Tantoo Cardinal, above center, with Eggold).
"She's a history professor with a drive for social justice and the truth," Cardinal says. Although she has a dangerous blood clot, the descendent of the Native American Lenape tribe that once inhabited Manhattan tells him she can't stay in a hospital whose name represents the erasure of her people.
See Also
The actor has played Dr. Kapoor in the medical drama since 2018.
For Cardinal, "I can feel [the lack of respect]. It's in your marrow," says the prolific Canadian Indigenous actress (Dances With Wolves), explaining why she took her first flight in a year to be part of telling the story.
The episode's writer, Shanthi Sekaran, realized the show had taken the name for granted. "I wanted Jane to be a headstrong, flinty woman who pushed the limits of activism and pushed Max to the limits of his idealism," she says. "Max is all about reckoning and justice — so how might he reckon with Jane's demands?"
The hour is a civil but intense negotiation. "She's hard on him," Cardinal says. "She sends him back to the drawing board until he comes up with something that's palpable."
New Amsterdam, Tuesdays, 10/9c, NBC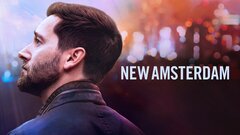 Powered by