'The Challenge: All Stars' Is Coming to Paramount+: Who Will Be the Greatest of All Time? (VIDEO)
To beat the best, you must compete against the best, and that's exactly what's in store in the newest edition of The Challenge, streaming on Paramount+ April 1. (Episodes will drop weekly.)
The MTV reality competition series — Season 36, Double Agents, is currently airing on Wednesdays at 8/7c — is bringing back 22 OGs for The Challenge: All Stars. It follows the most iconic, boldest, and fiercest competitors from the original Real World and Road Rules as they go head-to-head over nine episodes in hopes of walking away as the greatest of all time — and with the $500,00 grand prize.
The competitors will "face unprecedented, over-the-top challenges set in the Andes Mountains of Argentina," Paramount+ teases. Legendary vets like Mark Long, Nehemiah Clark, Ruthie Alcaide, Beth Stolarczyk, and Trishelle Cannatella are back, and, of course, TJ Lavin is hosting.
Watch the trailer below for a look at some of your favorites and the challenges they'll be facing, TJ saying, "hope to see you never," and more.
The contestants of The Challenge: All Stars are:
Ace Amerson — 4 Challenges
Alton Williams — 4 Challenges, 1 win
Aneesa Ferreira — 14 Challenges
Arissa Hill — 1 Challenges
Beth Stolarczyk — 7 Challenges
Darrell Taylor — 9 Challenges, 5 wins
Derrick Kosinski — 10 Challenges, 3 wins
Eric "Big Easy" Banks — 6 Challenges
Jemmye Carroll — 7 Challenges
Jisela Delgado — 3 Challenges
Jonna Mannion — 5 Challenges
Katie Cooley — 9 Challenges, 1 win
KellyAnne Judd — 4 Challenges
Kendal Sheppard — 1 Challenge, 1 win
Laterrian Wallace — 3 Challenges
Mark Long — 6 Challenges, 2 wins
Nehemiah Clark — 4 Challenges, 1 win
Ruthie Alcaide — 4 Challenges
Syrus Yarbrough — 5 Challenges, 1 win
Teck Holmes — 1 Challenge
Trishelle Cannatella — 4 Challenges
Yes Duffy — 3 Challenges, 1 win
Paramount+ and The Challenge YouTube channel will also be home to The Challenge: Aftermath, after shows hosted by Challenge veteran Devyn Simone with behind-the-scenes intel about the challenges, eliminations, and, of course, drama.
The Challenge: All Stars, Premiere, Thursday, April 1, Paramount+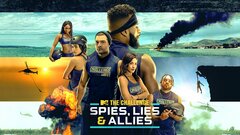 Powered by