What's Worth Watching: 'Ash Vs Evil Dead', 'Luke Cage', 'Westworld', 'Saturday Night Live', 'Shameless', 'Elementary' and more for Friday, September 30 thru Sunday, October 2
Ash Vs Evil Dead (Sunday, 8/7c, Starz): Laughing through the splatter, the second season of this slapstick horror-comedy finds Ash (the hilariously cocky Bruce Williams) fleeing storm-tossed Jacksonville to reconnect with his Michigan roots, which includes a gruff dad (Lee Majors)—and, true to form, more ghastly demons than you can throw a chainsaw at. Gruesomely funny, this continuation of the horror franchise is a literal scream. And a hoot.
Marvel's Luke Cage (Friday, Netflix): Best remembered for having bed-breaking sex with another Marvel hero, Jessica Jones, bulletproof Luke (Mike Colter) is a physical marvel and an appealing center of moral gravity as Marvel's latest urban avenger. He's forced to emerge from self-imposed exile in Harlem to combat local political and police corruption. And yes, he's up to the task.
Comedy Tonight: The 42nd (!) season opener of NBC's Saturday Night Live (11:30/10:30c) is perfectly timed to take advantage of the huge tune-in for this week's first presidential debate. Adding to the anticipation: the casting of Alec Baldwin, who holds the record as most frequent guest host with 16 appearances, as the new Donald Trump, alongside Emmy winner Kate McKinnon's expert Hillary Clinton. Joining the ensemble as featured players: Mikey Day, who has written for the show since 2013, Melissa Villasenor and Alex Moffat. Promoted to full-time cast: Pete Davidson, Leslie Jones and Michael Che. Margot Robbie is guest host, with The Weeknd as musical guest. (Personally, I'm way more excited about Hamilton's Lin-Manuel Miranda guest-hosting next week.
A night later, Comedy Central premieres Kevin Hart Presents: Hart of the City (11:30/10:30c, Sunday), in which the comedian scours the comedy scenes of major metropolises. First stop: Atlanta.
Westworld (Sunday, 9/8c, HBO): Going far deeper than the 1973 movie, though also set at a faux-Western theme park populated by lifelike robots, this provocative adaptation isn't so much about the artificial creations turning on humans, as much as it is about them somehow becoming more human, harboring memories that leave them shaken and unraveled. It's a unique twist on the Frankenstein creation myth, and great sci-fi TV.
Inside Weekend TV: Netflix re-enters the true crime arena with the documentary Amanda Knox (Friday), exploring the facts of the notorious international murder case and trial as well as the media's and public's ongoing fascination with the story. … Highbrow music alert: PBS's 13th Vienna Philharmonic Summer Night Concert (9/8c, Friday, check local listings at pbs.org) features guest conductor Semyon Bychkov conducting an open-air concert of French classics, with piano duo Katie and Marielle Labeque (the latter is Bychkov's wife) as guest soloists. … Marking the 10th anniversary of the premiere of one of TV's most diabolical crime dramas, Showtime's twisty Dexter airs a 10-episode marathon (starts noon/11c, Saturday) of fan-favorite episodes. … Highbrow drama alert: Ovation launches the lavish historical series, Versailles, with a two-hour opener (10/9c, Saturday) taking us inside the sensuous 17th-century court of France's King Louis XIV (George Blagden) … CBS's 60 Minutes (7/6c, Sunday) features a headline-making Anderson Cooper interview with Nate Parker, the director of the acclaimed new film The Birth of a Nation, who speaks out for the first time on national TV about a rape case from 1999 for which he says he was vindicated and falsely accused. … Showtime's outrageous Shameless (9/8c, Sunday) picks up its seventh season a month after last year's finale, with Frank (William H. Macy) waking from his latest coma to find that Fiona (the tremendous Emmy Rossum) is finally putting herself first, family be damned. But for how long? … True Blood's Nelsan Ellis joins the cast of CBS's Elementary in its fifth season (10/9c, Sunday), as a character from the Conan Doyle canon: Shinwell Johnson, a former patient of Watson (Lucy Liu). … Think of it as the flip side of the The Great British Baking Show, as the Food Network serves up Worst Bakers in America (10/9c, Sunday), with Duff Goldman and Lorraine Pascale supervising hapless bakers who'll rise and fall in a culinary boot camp.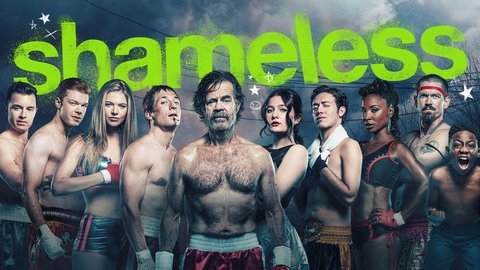 Powered by