'Blue Bloods': The Reagan Family Faces New Challenges in Season 7
Pass the potatoes! For six years, millions of viewers have spent Friday nights having Sunday dinner with the Reagan family of Bay Ridge, Brooklyn. It's a ritual that never seems to go stale on Blue Bloods, which follows a family of New York City law enforcers—three generations of cops and one assistant district attorney—and is still a steady Top 10 performer going into Season 7.
Those dinner scenes are the only time that the entire cast can catch up—and routinely tease each other. On a late-summer afternoon on the Brooklyn set, while filming for this fall's fifth episode, 20-year-old Sami Gayle (feisty teen Nicky Reagan-Boyle) is the victim, as her castmates playfully grill her about a new boyfriend. The show's star, Tom Selleck, wearing his authority lightly, gives the actors time to connect and joins in on the fun.
During a short break from the scene, which features an amusing verbal joust between Commissioner Frank Reagan (Selleck) and his dad, former commissioner Henry (Len Cariou), over the derivation of the word grifter, Selleck is happy to riff on his long-lived show and its beloved centerpiece. "Part of the enjoyment of the dinner scene is that viewers know the characters so well," he says. "We deal with important issues, but most who watch the show realize it's about the people."
One of those people is in deep trouble as the season opens. Det. Danny Reagan (Donnie Wahlberg) may have convinced the NYPD that his fatal shooting of serial killer Thomas Wilder (Louis Cancelmi) last season was self-defense, but Robert Lewis (guest star Michael Imperioli, of Sopranos fame), a prosecutor for the state attorney general, has his doubts and opens an investigation.
The fact that Wilder had kidnapped Danny's niece Nicky, plus the detective's cocky attitude and propensity for bending the rules, spurs Lewis on. The case for Danny gets worse when Nicky must testify about what she saw happen between her uncle and Wilder. "The truth she reveals isn't very good for Danny," Selleck teases.
RELATED: Donnie Wahlberg on the Blue Bloods Season Finale and Tom Selleck's 'Oddball Jokes'
Danny is, needless to say, frustrated. "He has been managing to walk the line, slowly cleaning up his act and getting more on board with modern policing, and this sets him back," Wahlberg says. "An old-school cop, he's beginning to feel that he just doesn't fit in anymore and may be in the wrong line of work. He's losing his way." So much so that
Danny's devoted wife, Linda (Amy Carlson), "is anxious about his mental state and how the investigation is affecting his performance on the job," Carlson says. "And as we know, Danny is a hothead, so this all could turn bad."
While offering moral support to his son in the season premiere, Frank has an emotional situation of his own. His old friend Grace (guest star Lori Loughlin), the widow of a slain police officer, beseeches him to keep her only son, soon to graduate from the police academy, from a beat assignment. "Frank learns that it was his mentoring that made the boy want to become a cop," Selleck says. "Because Grace already lost someone in the line of duty, it's a real dilemma for him."
RELATED: More Scoop on Fall Shows
Frank has been flying solo an awfully long time. Could Grace become more than a friend? "It's a complicated relationship that's worth harvesting," showrunner Kevin Wade admits, "and Lori and Tom have a great rapport. Tune in around the end of the year."
ADA Erin Reagan (Bridget Moynahan) often faces her own tough ethical decisions, but her moment of doubt in a child pornography case will surprise her. "Erin's motive is always follow the law and remove any emotion," Moynahan points out, "and this is a case that screams guilt. But when she learns the elements that led to the awful event, it's a struggle to maintain that dispassion. Maybe, she thinks, there is some leniency needed here."
Some less grim storylines are in store for the youngest Reagan son, beat cop Jamie (Will Estes), and his partner, Eddie (Vanessa Ray). In the first, they're temporarily assigned to an over-the-top TV show about NYPD detectives. "We get a chance to question the technical adviser, a retired cop, about the mistakes he makes," says Estes. A second plot finds the partners caught in a wedding brawl between NYC cops and their suburban counterparts.
At the slightly more civilized Reagan dinner table, as Selleck goes back for yet one more take, he notes with a dimpled smile there is one danger in the cast's weekly time at the dinner table. "Sometimes we talk too much!"
Blue Bloods, Season Premiere, Friday, September 23, 10/9c, CBS.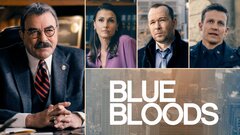 Powered by